Description
If you find inaccurate product information, welcome to Correct Errors
UTi80 infrared thermal imager takes the advanced infrared detector with UFPA Uncooled focal plane and high-quality optical lenses as a core, combines with the convenient operating system, leading ergonomic structure design and expansion accessories with perfect function. It's an ideal temperature measurement tool with "clear imaging, accurate measurement, simple operation and portable to carry" for applicable users. It's the optimum choice for on-site temperature detection, preventive maintenance and other application occasions. It can be widely used in electrical, electronic and manufacturing, construction, energy, metallurgy, petrochemical, railroad, automotive and other industries.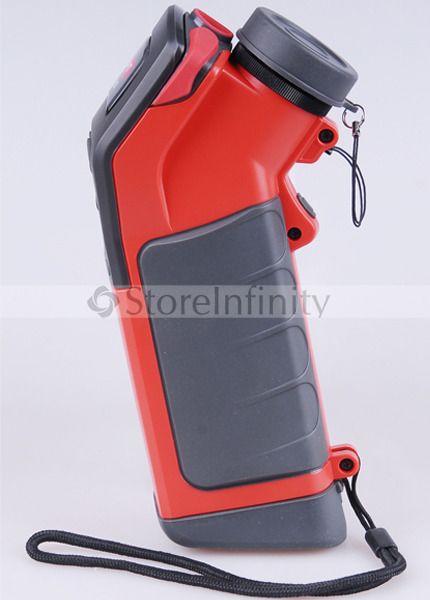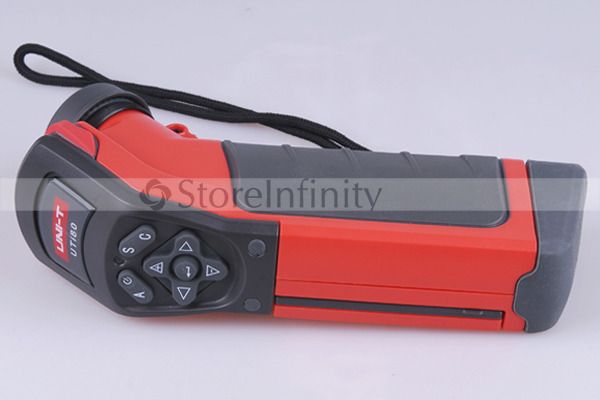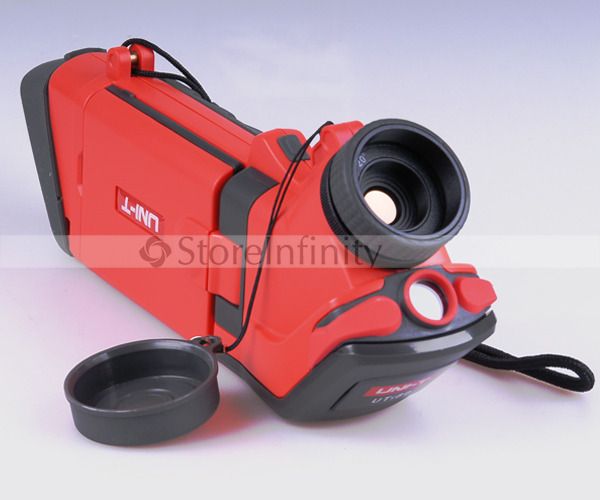 Ask a question about UNI-T UTi80 Portable IR Thermal Imager :
Additional Info
Additional Info
Size
No
Brand
UNI-T
Main Features
Infrared radiation: in nature, all objects with temperature above absolute zero(-273C) with emit infrared radiation to the outside world.
The size of radiation energy of object is related to surface temperature of objects.
Infrared detector: it's the device which can convert the change of amount of infrared radiation of measured object into power change, i.e. convert light signals into electrical signals.
Infrared thermal imager will focalize the infrared energy radiated from measured objects to infrared detector by optical devices.
After the infrared data which each pixel on detector receivers are processed, compare the pre-calibrated temperature data, convert them into standard video format and display, thus the process can be achieved that the heat distribution of measured objects is converted into infrared thermal map.
This infrared thermal map corresponds to the thermal distribution on the surface of measured objects.
The different colors on thermal images represent different temperatures of measured object.
Specifications

Basic Functions

Range

Best Accuracy

SCAN Mode AUTO Mode

DC Voltage

3V/30V/300V &nbsp ; 3V/30V/300V

(1%+ 3)

AC Voltage

3V/30V/300V &nbsp ; 3V/30V/300V

(1%+ 4)

Resistance

300/3k/30k/300k/3MW 300/3k/30k/300k/3M/30MW

(1%+ 3)

Capacitance

3nF/30nF/300nF/3μF 3nF/30nF/300nF/3μF
/30μF/300μF /30μF/300μF/3mF

(3%+ 5)

Special Functions

EF Function

√

Diode

√

Continuity Buzzer

√

Sleep Mode

Around 10 Minutes

√

Low Battery Display

√

Input Impedance for DC
Voltage

≥ 10MΩ

√

Measurement

√

Data Hold

√

Max / Min Mode

√

Display Backlight

√

Penlight

√

Max. Display

2999

GENERAL CHARACTERISTICS

| | |
| --- | --- |
| Power | 3V Li-MnO2 Button Cell Battery |
| LCD Size | 28 x 14 mm |
| Product Colour | Red and Grey |
| Product Net Weight | 90g |
| Product Size | 20 x 27 x 182mm |
| Standard Accessories | Test Lead, Battery, English Manual |

Package Including
1 x UTi80 Hand-Held IR Infrared Thermal Imager Imaging Camera
1 x Charger
1 x Memory Card
1 x Card Reader
1 x CD Software
1 x Battery
1 x User Maunal
1 x Carry Case
Reviews
Tags
Shipping and Payments
Shipping and handing
Item location: International warehouse
Shanghai, Australia, United Kingdom, Germany, United States
Free Shipping to: Worldwide
Asia
China, Hong Kong SAR China, India, Indonesia, Japan, Macau SAR China, Malaysia, Philippines, Singapore, South Korea, Taiwan,Thailand, Vietnam
Europe
Austria, Belgium,Denmark, Finland, France, Germany, Greece, Hungary, Ireland, Italy,Netherlands, Norway, Poland, Portuga,Spain, Swaziland, Sweden, Switzerland, Ukraine,United Kingdom,Turkey
Americas
Canada, United States
Oceania
Australia,New Zealand
| | | | |
| --- | --- | --- | --- |
| Shipping and handing | to | Service | Delivery* |
| Free Shipping | Worldwide | Express Shipping | Estimated 3-9 days |
* Estimated delivery dates include our handling time, and will depend on shipping service selected and receipt of cleared payment. Delivery times may vary, especially during peak periods.
Handing time

Estimated Time

Will usually ship within 1 business day of

receiving cleared payment

.

Estimated time table
Return policy
| | | |
| --- | --- | --- |
| After receiving the item | Refund will be given as | Return shipping* |
| 30 days | Money Back | We pays return shipping |
* include our handling time, and will depend on shipping service selected and receipt of cleared payment. Delivery times may vary, especially during peak periods.
Payment details
| | |
| --- | --- |
| Payment metod | Preferred / Accepted |
| or Bank Transfer | Paypal preferred |