Description
If you find inaccurate product information, welcome to Correct Errors
MASTECH founded in 1987, is the world's largest instrument manufacturer, is the world's leading provider of electronic measuring instruments, one of the test instrumentation industry is well-known brand is recognized by the national brand-name high-tech enterprises in Guangdong Province products, electrical instrumentation industry, the main drafter of the national standard.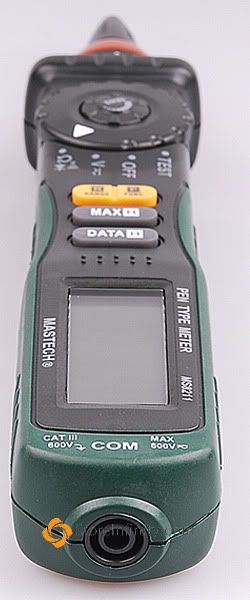 Ask a question about Mastech MS8211 Pen-Type Digital Multimeter:
Additional Info
Additional Info
Brand
MASTECH
Main Features
Pen-type pocket-size DMM with Non-contact AC voltage sensor
Sensitivity adjustable for non-contact detection
Continuity test
Diode test
Retractable tip with sound and flash warning
Data hold & maximum value hold
Meet with IEC1010 & UL1244 safety requirements
Specifications

| | |
| --- | --- |
| Model | MS8211 |
| DCV | 200m/2/20/200/600V +/-0.7% |
| ACV | 200m/2/20/200/600V +/-0.8% |
| Resistance | 200/2k/20k/200k/2M/20M +/-1.2% |
| Power | 1.5V (AAA) x 2 |
| Size | 208 x 38 x 29mm |

Size
No
Package Including
MS8211 Pen Type Digital Auto Range AC DC Multimeter
1 x Tool Box
One set of test leads
Warranty
Reviews
iTEM NOT AS EXPECTED

Review by

jubblytracy

To the point......The meter is ok I guess. It's tough getting it in the case along with the leads it comes with. The quality remains to be seen. The big disappointment is that every tester I have had over my 27 yr career has had a continuity tester.....this one has one too. But....every other one that I had has a ringer...or tone that rings when test something for continuity. Touch the leads together and you get a tone ....this one does not and I don't like it (Posted on 1/12/12)

thank you tracy

Review by

bishojou

I'm very happy with this little meter. I bought before doing a fairly large home improvement project in which I expected to have to deal with electrical issues, and it was perfect for what I needed. The non-contact feature was great for determining whether or not a circuit was hot; it was also very handy to simply place it in front of an AC outlet to determine whether or not the outlet was live. It worked especially well when placing the device near a Romex wire to see if the wire was hot.
The instruction manual was somewhat badly translated into English, although it got the major points across. While I understand basic electrical circuitry I consider myself a novice, and using this device was super simple - you really hardly need the manual anyway.
The device also seems pretty ruggedly constructed. It got thrown around quite a bit during our demolition phase and held up fine. It was nicely sized to fit into my overalls pocket, and the case feels pretty sturdy and keeps the meter and accessories neatly tucked away. Overall, it's a great device for anyone seeking a basic, straightforward electrical meter. (Posted on 1/12/12)

great item..easy transaction

Review by

02*rowland

I own three fluke dmms, but now I keep this one in my bag or with me almost always. I keep one fluke in the car, and 2 at home. This is just so much more convenient and the AC detector doesn't hurt either, although I do have a fluke ac detector only wand. now I could even leave that at home, although it's so small I still bring it with me since it doubles as a pen light. anyway, this thing is great to carry around and never gets in the way. BTW, the first reviewer gave it high marks, and that's the reason I decided to give it a try. I also highly recommend this multi-tasker.
Forgot to mention, I like the retractable tip, now I never get jabbed by the probe(s). (Posted on 1/12/12)

As described, working perfect.

Review by

venezuela.02

I own numerous DMM's. The Mastech MS8211 is my first "pen-style" meter, and is now my favorite meter to use.
The meter is 20.5 cm/8 1/8" long (probe retracted), and comes with a carrying case, two sets of test leads, and two AAA batteries.
A "pen-style" meter keeps the digital display is in your hand and eyesight. This makes for easy reading of the display, and one-handed access to the function selectors/keypads.
The layout of the controls is simple, and the buttons/selectors have a solid, quality, feel.
The AC voltage sensor has both a visual and audio alert. The sensitivity of the voltage sensor is adjustable. At its most sensitive setting, the alerts activate about 18" from an AC outlet; about 2" when set at the lowest sensitive setting.
I purchased the meter direct from Storeinfinity, and received it within the same week.
Overall, I am very impressed with this meter. It is lightweight, easy to use, and of higher quality than I had anticipated for its price. (Posted on 1/12/12)
Write Your Own Review
Tags
Shipping and Payments
Shipping and handing
Item location: International warehouse
Shanghai, Australia, United Kingdom, Germany, United States
Free Shipping to: Worldwide
Asia
China, Hong Kong SAR China, India, Indonesia, Japan, Macau SAR China, Malaysia, Philippines, Singapore, South Korea, Taiwan,Thailand, Vietnam
Europe
Austria, Belgium,Denmark, Finland, France, Germany, Greece, Hungary, Ireland, Italy,Netherlands, Norway, Poland, Portuga,Spain, Swaziland, Sweden, Switzerland, Ukraine,United Kingdom,Turkey
Americas
Canada, United States
Oceania
Australia,New Zealand
| | | | |
| --- | --- | --- | --- |
| Shipping and handing | to | Service | Delivery* |
| Free Shipping | Worldwide | Express Shipping | Estimated 3-9 days |
* Estimated delivery dates include our handling time, and will depend on shipping service selected and receipt of cleared payment. Delivery times may vary, especially during peak periods.
Handing time

Estimated Time

Will usually ship within 1 business day of

receiving cleared payment

.

Estimated time table
Return policy
| | | |
| --- | --- | --- |
| After receiving the item | Refund will be given as | Return shipping* |
| 30 days | Money Back | We pays return shipping |
* include our handling time, and will depend on shipping service selected and receipt of cleared payment. Delivery times may vary, especially during peak periods.
Payment details
| | |
| --- | --- |
| Payment metod | Preferred / Accepted |
| or Bank Transfer | Paypal preferred |