Description
If you find inaccurate product information, welcome to Correct Errors
The type of Voltage Detector have a pen shape, mini size, easy to use and portable.100% new, factory packed and never been used. This pen is compact in size and perfect for commercial use.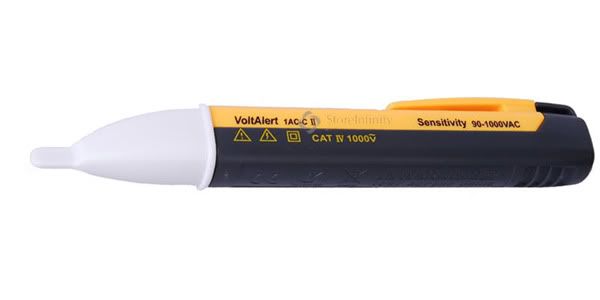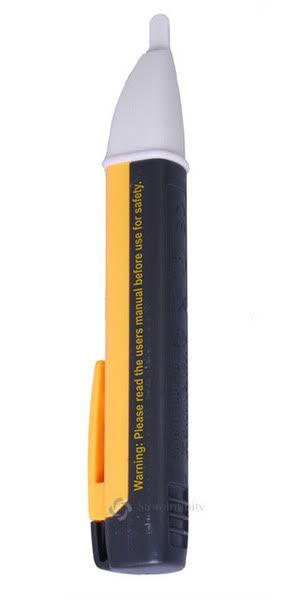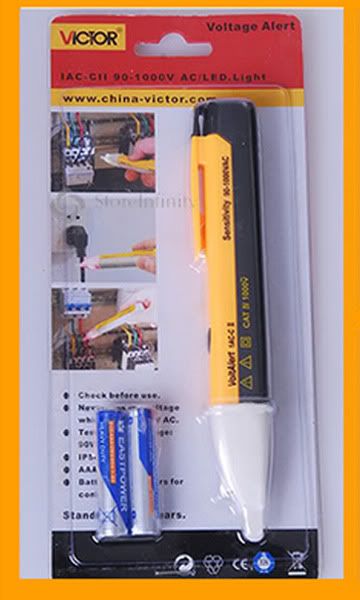 Ask a question about Victor 1AC-C II Voltage Detector Pen:
Additional Info
Additional Info
Brand
Victor
Main Features
High quality pocket-sized voltage detector
Technology and continuous self-test
Upon detection, tip glows and buzzer sound
CAT IV 1000 V for added protection
With a super bright LED light
Pen shape, mini size, easy to use and portable
Size
No
Specifications
Test voltage range: 90-1000V AC
Power Supply: 2 x 1.5V AAA
Range: 50 to 500 Hz
Operating Temperature: -10°C ~ 50°C
Operating Humidity ≤95
Safety Rating: 1000V, CAT IV
Dimension: 150*26*18mm
Net weight: 39g
Package weight: 62g
Package size: 210*92*25mm
Package Including
1x 1AC-CII Pen
2x 1.5V AAA Batteries
Warranty
Reviews
great product and price

Review by

journeyman

does exactly what it's supposed to do (Posted on 9/28/12)

Super fast delivery! As described....thanks so much!!

Review by

marciewarner834k

- Nice bright light
- loud beep
- build like it should be
- best of al a GENUINE Fluke
- doesn't work trough walls
- great tool from the guys of Fluke (Posted on 12/7/11)

Great seller. Fast, free shipping. Thank you!!!!

Review by

paxbenmad

Nice powerline detector. I use it at my work for finding defect
in the stage lighting. It doesn't go of with inductive loads due to magnetic fields in heaps of cables so it really works correct [i've tested it since i was curious, in this way: 4 8-pair multicables. All pairs hooked up to a 1KW Lamp and tested the a single pair on current with a multimeter and it showed up with 94 volts wich should be enough to trigger this device and it didn't since there was no current, so it works. (Posted on 12/7/11)

WOW!!!!!! 3 dayS shipping!!!!

Review by

cmfol

The pen could be smaller. Please Fluke.com, great products. No other cons, excellent tool. I use low voltage electrical panels of the industries I work and I have no problem of acceptance, despite the texts in Chinese. Very trust. Print the manual in your language using the site: www.fluke.com (Posted on 12/7/11)

good seller, prompt delivery! Would buy from again. A+

Review by

awforce

- Legitimate product.
- CAT IV, accepted in the industrial environment.
- Use with or without beep. To activate silent mode, turn the device holding the button for 2 seconds.
- The Fluke is a respected manufacturer. (Posted on 12/7/11)

Super low price. Fast International shipping. Great seller.

Review by

trainspotting944

I'm an eletrical engineer who does eletrican work on the side. For the day to day eletrican this is a good tool. For people who are working with anything else, i'd shell out a bit more and get a diffrent product. (Posted on 11/27/11)

Thanks & best regards

Review by

ecrinvest

my title says it all----this was ordered and shipped, arrived in perfect condition. cannot say much more about storeinfinity service. perfect (Posted on 11/27/11)

good price

Review by

harbisonsteve

Just got this,and started experimenting with my outlets,cords,and light switches.
I'm very impressed with this devise,was testing my kitchen dimmer switch,and the tester didn't light or sound A beep,and I thought,what now?Pushed dimmer in,tester lit and sounded A beep,dimmer off,nothing,very interesting,had no idea.Uses 2 AAA batteries,which are included,by the way both batteries checked out 100%,brand new.When I go to tear down an outlet or switch,this will help,but I'll shut down the power to make sure.This basically let's you know if there is power to what your testing,bright red and loud beep.You can disable the sound if you want.I would recommend this,but still cut the power.The Pen Tester slides open from the back to insert the 2 batteries,kinda hard to open,just to let people know. (Posted on 11/27/11)

Thanks for an easy transaction

Review by

abeauto2010

If you ever had a light bulb break and were not sure the power is off, this device will tell you. It makes a nice addition to a tool kit for household electrical work. (Posted on 11/24/11)

uy Here! Honest Seller!Fastest Shipping!

Review by

regis599

You never know exactly when you'll need this, but you'll be glad you have it when you come across a circuit you thought was off but was really on. Small enough to keep in a shirt pocket, doesn't take up room in your tool belt either. No excuse not to carry on you. Beeps and lights up when detects voltage. (Posted on 11/24/11)

All Ok. Thanks

Review by

axonalex

Great Product. It does exactly what it says and it is really easy to use. I look online and at the local Home Depot, but I could not find one like this for that price. (Posted on 11/24/11)

Fast, well packaged, very happy - and thanks for checking up afterwards!

Review by

nethoggie

This will be so handy to use instead of a meter to check wiring and outlets. Buy it, you won't regret it. (Posted on 11/24/11)

nice product

Review by

chrbst

Just read the directions (they are very short) and you will have the best tool I have found for working on live or could-be-live circuits. (Posted on 11/24/11)

GREAT!!!

Review by

wandcsmom

Very easy to use - it's nearby whenever I am working around electricity - in an instant I know if a wire - outlet etc is hot or not - definitely recommend it (Posted on 11/24/11)

Great seller. Excellent communications.

Review by

luxtron

This is a very helpful tool that works perfectly. I wouldn't change a thing on it. I use this so frequently that my wife is getting tired of the beeping. (Posted on 11/24/11)

All good thanks

Review by

troy5397

This is all this this tool is designed for. You touch the wire, and it indicates if there is voltage present. That's it. If you wanna know how much voltage is there buy a real meter. Just make sure you know how to use this voltage tester, and/or meter before working on a live circuit. The money you save now may not be worth your life. (Posted on 11/24/11)

Awesome seller, easy to deal with, good communication.

Review by

white6lclubby

This is a useful tool for even occasional homeowner use. Like all non-contact testers, you will need to be careful in interpreting its indications. It will never give a "hot" indication with BX cable (armored or shielded cable), but with standard Romex, it works fine as long as you have access to put the tip flat against the cable on the side carrying the hot wire. But given the access problems most cable runs present, I would never assume a dead circuit just because I got no indication from this tester. I do trust it when the tip is directly in contact with a bare wire or connector screw in a switch or when it is inserted in an outlet. It has never given a false negative in that situation. (Posted on 11/23/11)

good buy, exactly what I wanted

Review by

samdiego14

I have seen this tester used by contractors/electricians on TV. I had to replace a celing fan, house wiring is not what it should be. Turning off the circuit breaker to this room did not kill the power to the fan. The tester showed the wires still live (just by touching the probe to the outside of the insulated wire), probably saving me from a nasty shock. I turned more breakers off and no electricity to the fan and no shock. (Posted on 11/23/11)

Not very happy with it.

Review by

2189paula

Its a voltage tester, and it works... but I have used better. The unit has no adjustable sensitivity and is rather non sensitive... you have to just about touch the wire before it picks up voltage and makes it harder to get a positive reading. Lack of adjustable sensitivity makes the unit difficult to use when trying to find a live wire in a group of wiring. works, yes... but lackluster performance. (Posted on 11/23/11)

Great seller, fast shipment, quality product

Review by

fee548

This is the tester that all the electricians use at work highly recommend.
what can I say? I can see why they all like it. It works great and saves me a lot of time from individually testing each wire with a meter. It's heavy duty and bulletproof. I have dropped it many times and it remains unfazed. (Posted on 11/23/11)

great item

Review by

05ssh

I used this to check for live wiring when doing an installation. No issues with the device. Construction is good and not heavy to carry in your pocket. (Posted on 11/23/11)

Excellent service

Review by

lissiebeth

Before I got this tool I bit into 2 hot lines, while I did not get shocked it is a great example of why you need to test lines before you assume they are not powered. It is a simple tool and is a must if you are going to do some minor electrical work. (Posted on 11/23/11)

Perfect thank you

Review by

elleb1988

Works far better than my previous tester. I would highly recommend it for electrical testing. (Posted on 11/23/11)

I got my item it all good

Review by

rajwinder.rajwinder

This (or any non-contact voltage tester) is a must-have for anyone who has to work with, or near wiring. The audible signal makes this an ideal tool for finding the circuit breaker to an outlet in another room. Simple and safe to use. Periodic flashing when "on" is a very convenient feature that makes it almost second nature to use when you've got other things on your mind than "did I leave this on or off"? This little item has already "saved my bacon" a few times... well, maybe "saved my sanity" is more accurate, it can really take out a lot of confusion when dealing with several circuits and you don't remember which ones are live. (Posted on 11/23/11)

great communication, wonderful seller. Recommended

Review by

miss_oliver_wood

This is a tool everyone should have who works in any form of construction, form renovation of a house to industrial equipment installations (below appropriate operating voltages of course). It does not take much current to cause harm, with this you will always verify that power is de-energized without having to trust those panel directory cards etc. Low Cost, High reliability, heartbeat light to tell you it is on and functioning, lightweight, small, portable. None, this does everything I would have expected it to do. Don't expect too much out of it and I would NOT use it as a circuit tracer. If you want to do circuit tracing, get a real tracing kit, which are more expensive but vastly more useful for that operation. (Posted on 11/23/11)
Write Your Own Review
Tags
Shipping and Payments
Shipping and handing
Item location: International warehouse
Shanghai, Australia, United Kingdom, Germany, United States
Free Shipping to: Worldwide
Asia
China, Hong Kong SAR China, India, Indonesia, Japan, Macau SAR China, Malaysia, Philippines, Singapore, South Korea, Taiwan,Thailand, Vietnam
Europe
Austria, Belgium,Denmark, Finland, France, Germany, Greece, Hungary, Ireland, Italy,Netherlands, Norway, Poland, Portuga,Spain, Swaziland, Sweden, Switzerland, Ukraine,United Kingdom,Turkey
Americas
Canada, United States
Oceania
Australia,New Zealand
| | | | |
| --- | --- | --- | --- |
| Shipping and handing | to | Service | Delivery* |
| Free Shipping | Worldwide | Express Shipping | Estimated 3-9 days |
* Estimated delivery dates include our handling time, and will depend on shipping service selected and receipt of cleared payment. Delivery times may vary, especially during peak periods.
Handing time

Estimated Time

Will usually ship within 1 business day of

receiving cleared payment

.

Estimated time table
Return policy
| | | |
| --- | --- | --- |
| After receiving the item | Refund will be given as | Return shipping* |
| 30 days | Money Back | We pays return shipping |
* include our handling time, and will depend on shipping service selected and receipt of cleared payment. Delivery times may vary, especially during peak periods.
Payment details
| | |
| --- | --- |
| Payment metod | Preferred / Accepted |
| or Bank Transfer | Paypal preferred |