Description
If you find inaccurate product information, welcome to Correct Errors
New Kyoritsu 2007A AC Digital Clamp Meter Tester, outstanding perfermance with best quality and suitable price.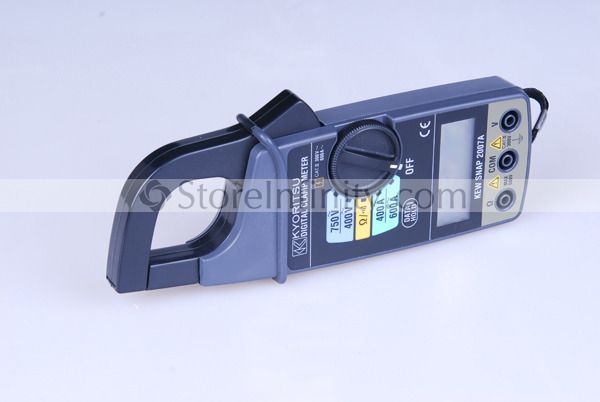 Ask a question about Kyoritsu 2007A Digital Clamp Meter:
Additional Info
Additional Info
Brand
Kyoritsu
Main Features
Sleep function to save battery
Data hold function
Digital display with maximum 4000 counts
Specifications

AC A

400/600A
±1.5%rdg±4dgt [50/60Hz]
±2%rdg±5dgt [40~400Hz]

AC V

400/750V
±1.2%rdg±3dgt [50/60Hz]
±1.5%rdg±4dgt [40~400Hz]

Ω

400/4000Ω|±1.5%rdg±2dgt

Continuity buzzer

buzzer sounds below 50±35Ω

Conductor Size

Ø33mm max.

Safety Standard

| | |
| --- | --- |
| IEC 61010-1 | CAT.III 300V |
| | CAT.II 600V |
| | CAT.I 1000V |

IEC 61010-2-031
IEC 61010-2-032
IEC 61326 (EMC)

Frequency Response

40Hz~400Hz

Withstand Voltage

3700V AC for 1 minute

Power Source

R03 (AAA) (1.5V) × 2

Dimensions

195(L) × 78(W) × 36(D)mm

Size
No
Package Including
1 x Kyoritsu 2007A Clamp Meter
Original Package
Warranty
Reviews
awesome, as described will buy again

Review by

trump194

the product is as advertised. It is not high end, but for my limited applications, it is perfect and for the price, it was a beneficial purchase. (Posted on 10/31/11)

GREAT PRODUCT

Review by

ballsy1977

The price is good. Meter and probes feel cheap. I'm a automotive tech and the amp clamp does not read DC amps which limits its use for me. For the price, and the fact I did not do my homework well, I'll still give it 4 stars. (Posted on 10/31/11)

Excellent. Thanks.

Review by

wardpaul1

This is a very nice meter for a very nice low price. I am satisfied with it I hope it will last a very long time. (Posted on 10/31/11)

Good item.. Fast postage

Review by

bryce-bay

This is an inexpensive clamp meter - the one I am reviewing is the Kyoritsu 2007A which has identical specifications.
This clamp meter is distributed by many companies under different names with identical features. For most people except professionals this is an easy-to-use and accurate meter. If you are professional you will have your Fluke meter calibrated every year to make sure it is accurate. You can also calibrate this clamp meter but to do so would cost you more than to just purchase a new one. I find it to be completely accurate and reliable and it is reasonably well-made. I have seen it on sale for less than half. (Posted on 10/31/11)

Took a long time

Review by

neilson5

Excellent readouts, which were the same as my Fluke. Useful if you need to check frequency of AC especially when servicing standby generators. Measures temperatures, which may not be as accurate as the actual temperature but within 2 degrees F. For that price you cannot go wrong. (Posted on 10/31/11)

Good seller. Highly recommend. I would buy through them again.

Review by

ausie_sez

I use this primarily for occasional DC high current measurement at work. It's a little on the light-weight side for heavy-duty use, but for my purposes it works quite well. The clamp-on current measurement is quite easy and functional, but using it as a multimeter is a little bit clumsy. I recommend that you use this ain conjunction with a standard multimeter, rather than try to use this for all-around use. (Posted on 10/31/11)

great product, highly recommened

Review by

trip71mac

As an electronics hobbyist for some forty years, I always had a few volt-ohm meters lying around, and I never needed to upgrade since getting a fairly full-duty meter in the late 1980's. When installing some solar panels recently, though, I needed a way to read fairly high DC amperage, and preferably without having to break into the circuitry. I was ready to try out a clamp meter, but being out of the new features loop for some years, I was concerned that I might get something for a specialized niche, that might drop some capabilities of the meter that I had been using for most work.

No need to worry here. The ranges that show on the display of this meter are great for everything that I do, the power range is more than I am likely to need anytime soon, the accuracy is better than I am used to, and I have new, very useful capabilities, such as measuring Hz and temperatures. For this slightly old-fashioned hobbyist, I am only trying to imagine where I will need something more than what this meter does. Also, it is more durable than what I have known, a comfortable fit in the hand, pocket, or included case, and easy to use. (Posted on 10/31/11)
Write Your Own Review
Tags
Shipping and Payments
Shipping and handing
Item location: International warehouse
Shanghai, Australia, United Kingdom, Germany, United States
Free Shipping to: Worldwide
Asia
China, Hong Kong SAR China, India, Indonesia, Japan, Macau SAR China, Malaysia, Philippines, Singapore, South Korea, Taiwan,Thailand, Vietnam
Europe
Austria, Belgium,Denmark, Finland, France, Germany, Greece, Hungary, Ireland, Italy,Netherlands, Norway, Poland, Portuga,Spain, Swaziland, Sweden, Switzerland, Ukraine,United Kingdom,Turkey
Americas
Canada, United States
Oceania
Australia,New Zealand
| | | | |
| --- | --- | --- | --- |
| Shipping and handing | to | Service | Delivery* |
| Free Shipping | Worldwide | Express Shipping | Estimated 3-9 days |
* Estimated delivery dates include our handling time, and will depend on shipping service selected and receipt of cleared payment. Delivery times may vary, especially during peak periods.
Handing time

Estimated Time

Will usually ship within 1 business day of

receiving cleared payment

.

Estimated time table
Return policy
| | | |
| --- | --- | --- |
| After receiving the item | Refund will be given as | Return shipping* |
| 30 days | Money Back | We pays return shipping |
* include our handling time, and will depend on shipping service selected and receipt of cleared payment. Delivery times may vary, especially during peak periods.
Payment details
| | |
| --- | --- |
| Payment metod | Preferred / Accepted |
| or Bank Transfer | Paypal preferred |