Description
If you find inaccurate product information, welcome to Correct Errors
For telephone line, it can identify some state in the line, and more convenience to install, debug, maintain telephone line. There is a Sender and a Receiver included in the cable tracker.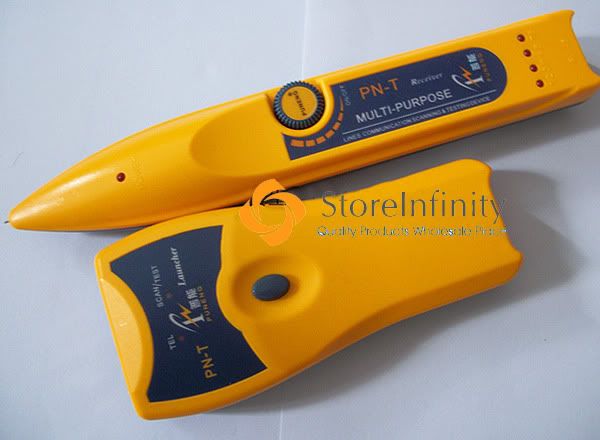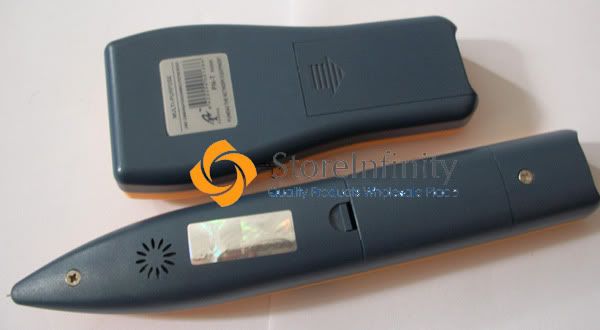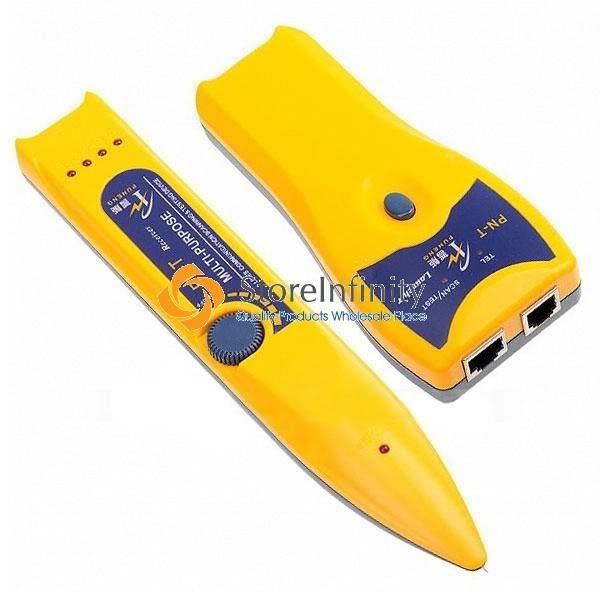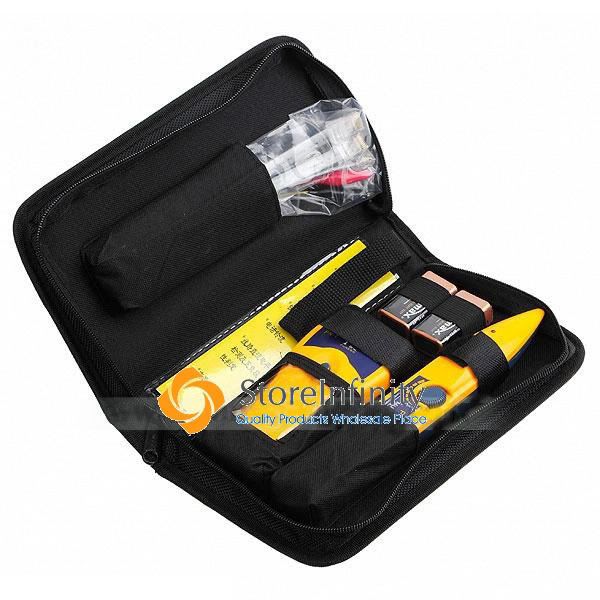 Ask a question about Puneng PN-T Network/Phone Cable Tracker :
Additional Info
Additional Info
Size
Dimensions:112??56??15mm Weight:120 g
Brand
OEM
Main Features
Cable Tester for UTP STP RJ45(manual switch)
Automatic efficient scan for the miss wiring, disorder cable, open and short circuit
TEL BNC test available(Adapter needed)
Remotely test cable up to 1000 ft in length ( remote kit included )
Protective power switch for low power consumption
High quality protecive case provides more secure protection
Judge continuity of the cables or wires
Track the cables or wires, and diagnose the break point
Receiver the tone signal on the cables or wires (telephone line)
Identify the state in the working telephone line (clear ring, busy)
Send a single solid tone or a dual alternating tone to the object cables or wires
Specifications
Power supply: DC 9V battery
Working current: Tester: ≤20mA Receiver: ≤50mA
Signal transfe mode: Digital signal
Signal output level: 8Vp-p
Signal transfer distance: ≥3Km
Dimension:Transmitter: 136x62.3x30.8mm Reveiver: 210x35.3x30mm
Package Including
1 x Cable Transmitter
1 x Cable Receiver/Tracker
2 x RJ45 Cable
2 x RJ11 Cable
1 x RJ-11 adaptive to RJ-45 adapter
1 x Cable with crocodile clamp
2 x 9V Batterries
1 x Earphone
1 x Instruction manual
Reviews
as described,thanks alot for the honesty,sure will buy again

Review by

polkatari

Look... we are testing continuity and connectivity of Ethernet cables/plugs/jacks. Unless a person is rough on tools, a device to do this doesn't need to be made of metal and it really shouldn't cost much. In fact, for a field service computer tech with a case of heavy tools, light and small for an Ethernet cable tester is a plus. I love mine but I got a good one. It's made of thin plastic so I'll be sure not to step on it. If you read these reviews and don't like the odds, get two. (Posted on 10/25/11)

great deal, fast shipping wonderful product, thanks

Review by

ovidiovelax7

The tester has two components, a master unit for one end of the cable and a slave for the remote end. Because they are detachable you can check cables when you can't see both ends at the same time.

This instrument tests for connectivity i.e. it will tell you if all the wires are in the right place and whether thay are open ot not. I didn't check to see if it detected shorts.

It will not tell you if you have the twisted pairs mixed up - this could show up as a high packet error rate.

The instructions were not in English but it is pretty obvious how to use it. You insert the one end of the cable into the master and the other end into slave and switch on.

Don't expect too much from the quality of the material used in it's construction. It's not going to stand up to any abuse and probably won't last very long That said it's quite a bargain and I happily recommend it. (Posted on 10/25/11)
Write Your Own Review
Tags
Shipping and Payments
Shipping and handing
Item location: International warehouse
Shanghai, Australia, United Kingdom, Germany, United States
Free Shipping to: Worldwide
Asia
China, Hong Kong SAR China, India, Indonesia, Japan, Macau SAR China, Malaysia, Philippines, Singapore, South Korea, Taiwan,Thailand, Vietnam
Europe
Austria, Belgium,Denmark, Finland, France, Germany, Greece, Hungary, Ireland, Italy,Netherlands, Norway, Poland, Portuga,Spain, Swaziland, Sweden, Switzerland, Ukraine,United Kingdom,Turkey
Americas
Canada, United States
Oceania
Australia,New Zealand
| | | | |
| --- | --- | --- | --- |
| Shipping and handing | to | Service | Delivery* |
| Free Shipping | Worldwide | Express Shipping | Estimated 3-9 days |
* Estimated delivery dates include our handling time, and will depend on shipping service selected and receipt of cleared payment. Delivery times may vary, especially during peak periods.
Handing time

Estimated Time

Will usually ship within 1 business day of

receiving cleared payment

.

Estimated time table
Return policy
| | | |
| --- | --- | --- |
| After receiving the item | Refund will be given as | Return shipping* |
| 30 days | Money Back | We pays return shipping |
* include our handling time, and will depend on shipping service selected and receipt of cleared payment. Delivery times may vary, especially during peak periods.
Payment details
| | |
| --- | --- |
| Payment metod | Preferred / Accepted |
| or Bank Transfer | Paypal preferred |