Description
If you find inaccurate product information, welcome to Correct Errors
AT5000 series spectrum analyzer will exceed 1Ghz(0.15~1050MHz) have the glancing or fine adjust center frequency with the 100KHz/grid~100MHz/grid span select, compose the simple frequency-domain. One 4 and 1/2 bit LED display can be selected for the center frequency and marking frequency reading.AT5011+have a tracking generator, this instrument can be used to the pre-research testing. can detect the mobile phone?__s RF circuit?__s native signal, intermediate frequency, radiation signal etc. the spectrum analyzer is used to examine and repaired that mobile phone can?__t going the web, very conveniently and exactly.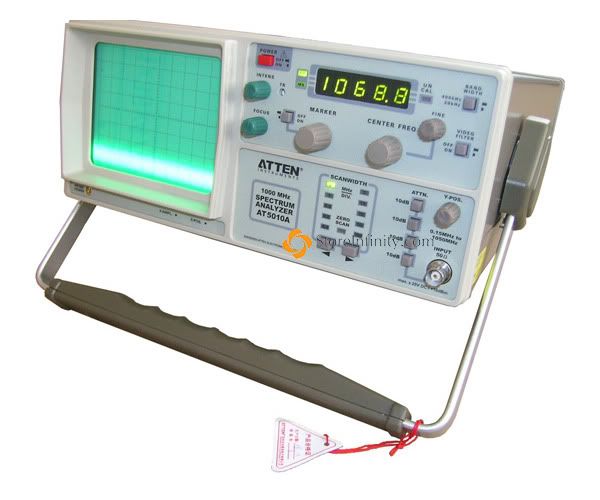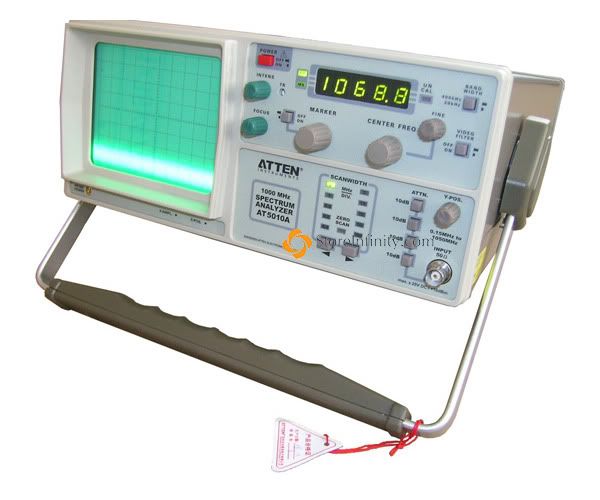 Ask a question about ATTEN AT5010A Spectrum Analyzer :
Additional Info
Additional Info
Brand
ATTEN
Main Features
Frequency Range: 150KHz to 1050MHz
4½ Digit Display : Centre & Marker Frequency
0.1MHz Resolution
Amplitude Range : -100dBm to +13dBm
Filters : 20KHz, 250KHz & Video Filter
Output Power : +1dBm to -50dBm (50 ohms)
Built-in Tracking Generator : 0.15MHz to 1050MHz (Only for Model AT5011+)
Size
No
Specifications

FREQUENCY

Frequency range:

150 KHz to 1050MHz (-3dB).

Center Frequency

±100KHz

Resolution of frequency display:

Resolution 100KHz, ( 4 ½ digit )

Marker Accuracy

0.1% Span +100KHz

Frequency Stability (Drift)

<150 KHz / hr

Frequency Span

Zero span 0Hz/div, and 100 KHz/div to 100MHz/div in 1-2-5 sequence.

Accuracy

±10%

RBW (-3dB)

Resolution 20 KHz & 250KHz

Video Bandwidth, VBW

400 KHz

Sweep Time (Fixed)

23ms

AMPLITUDE

Amplitude Range

-100dBm to +13dBm

Screen Display Range

80dB (10dB/div)., 8 div

Reference Level

-27dBm to +13dBm (in 10dB steps), -27,-17,-7,+3 and +13dBm

Accuracy (Ref. Level)

±2dB

Average Noise Level

-103dBm (25 0KHz RBW)

Frequency Response(Relative to 250MHz,

ATTN 10dB)

±2dB

Intermodulation (3rd order) (Spurious Response)

<-75dBc (2 signals, -27dBm each, Freq. Distance >3MHz)

Harmonic Distortion (2nd, 3rd):

<-75dB

Absolute Amplitude Accuracy

±2.5dB

INPUT

Input Impedance

50 ohms

Input Connector

BNC

Input Attenuator

0 to 40 dB (4 x 10 dB steps)

Input Attenuator Accuracy

±2dB / 10dB step

Max. Input Level

: +10dBm, (0dB attenuation), DC : ±25V

AT5011+ Tracking Generator Specifications

Output Frequency Range : 150KHz to 1050MHz.

Output Power Level : -50dBm to +1dBm (in 10dB steps & Variable).

Output Attenuator : 0 to 40 dB (4 x 10 dB steps).

Output Attenuator Accuracy : ±1dB.

Output Flatness (150KHz to 1050MHz) : ±1.5dB.

Spurious Outputs: Harmonic Spurs & Non harmonic Spurs( RFI): <20dBc.

Output Impedance : 50 ohms (BNC female).

Package Including
1 x AT5010A Spectrum Analyzer
Original Package
Reviews
great seller

Review by

freefromidiocy

I guess I'm looking for the best of both worlds. I would use it as a spectrum analyzer but I would equally use it as a spectrum display unit fed with a 10.7 MHz IF output, and just use the receiver to tune to received spikes. With that in mind I wonder if it would be any worse than the Avcom unit was. That was never really a big deal to me. What concerns me most is the apparent 20 KHz bandwidth and the fact that some signals could be missed as a result. I would only be using it to find signals, and never for tuning a duplexer. (Posted on 10/13/11)

Excellent Seller, item delivered quickly. Would defintely buy from seller again

Review by

ten10wood

I have a 5010 here. Best advice, save up your pennies for a better one. It drifts making it hard to stay on freq. Frequency display only goes out 1 decimal spot, i.e. 462.5 instead of 462.5750. This makes it hard to tune a duplexer unless you're using a good signal generator with it. I bought the 5010 because it was advertised that it had a built in tracking gen. When I saw the stupid one-place dec point, I had to fork out more money for a signal generator. (Posted on 10/13/11)

Great seller!

Review by

dippie22

I'm wondering if anyone has any experience with the Madell (sometimes also labelled "Atten" among other brands) AT5010 Spectrum Analyzer. This unit provides spectrum analysis from 150 KHz to 1 GHz and allows for audio output in AM and FM modes. It has bandwidths of 400 KHz and 20 KHz.

Is anyone using one of these for basic RF spectrum analysis, specifically for finding unknown transmiters? If so can you comment on performance? I'd be using it as a spectrum analyzer and also with a 10.7 MHz IF output of a receiver as well. I'm concerned about the 20 KHz bandwidth being the narrowest available and that this may cause signals that are close together to be missed. There is also a video bandwidth of 4 KHz, but I'm not sure how this figures into the mix as I'm still learning. (Posted on 10/13/11)
Write Your Own Review
Tags
Shipping and Payments
Shipping and handing
Item location: International warehouse
Shanghai, Australia, United Kingdom, Germany, United States
Free Shipping to: Worldwide
Asia
China, Hong Kong SAR China, India, Indonesia, Japan, Macau SAR China, Malaysia, Philippines, Singapore, South Korea, Taiwan,Thailand, Vietnam
Europe
Austria, Belgium,Denmark, Finland, France, Germany, Greece, Hungary, Ireland, Italy,Netherlands, Norway, Poland, Portuga,Spain, Swaziland, Sweden, Switzerland, Ukraine,United Kingdom,Turkey
Americas
Canada, United States
Oceania
Australia,New Zealand
| | | | |
| --- | --- | --- | --- |
| Shipping and handing | to | Service | Delivery* |
| Free Shipping | Worldwide | Express Shipping | Estimated 3-9 days |
* Estimated delivery dates include our handling time, and will depend on shipping service selected and receipt of cleared payment. Delivery times may vary, especially during peak periods.
Handing time

Estimated Time

Will usually ship within 1 business day of

receiving cleared payment

.

Estimated time table
Return policy
| | | |
| --- | --- | --- |
| After receiving the item | Refund will be given as | Return shipping* |
| 30 days | Money Back | We pays return shipping |
* include our handling time, and will depend on shipping service selected and receipt of cleared payment. Delivery times may vary, especially during peak periods.
Payment details
| | |
| --- | --- |
| Payment metod | Preferred / Accepted |
| or Bank Transfer | Paypal preferred |