Description
If you find inaccurate product information, welcome to Correct Errors
The Fluke T5 Electrical Testers let you check voltage, continuity and current with one compact tool. With the T5, all you have to do is select volts, ohms, or current and the tester does the rest. OpenJaw? current lets you check current up to 100A - without breaking the circuit. Its tough test leads stow neatly in the back of the t ester, making it easy to tote the T5 in your tool pouch. Detachable SlimReach? test probes are customized for national electrical standards. The test leads accept optional accessories such as clips and specialty probes. The optional H5 holster lets you clip the T5 onto your belt.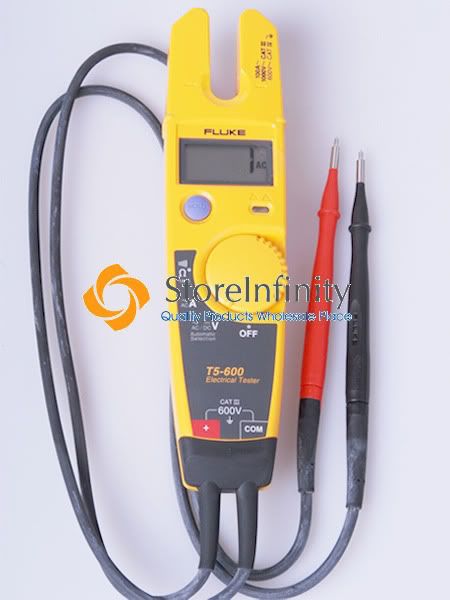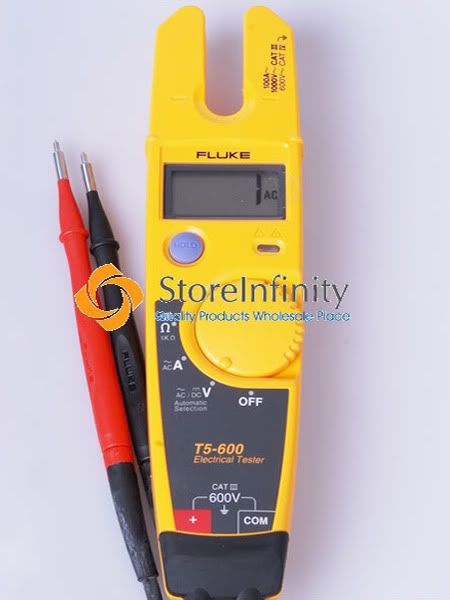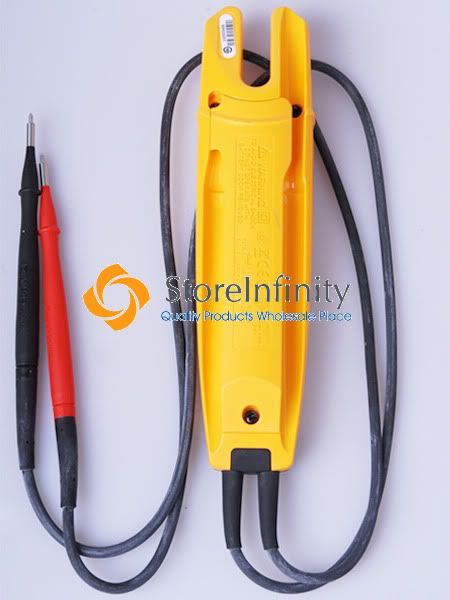 Ask a question about Fluke T5-600 Electrical Tester:
Additional Info
Additional Info
Brand
Fluke
Main Features
Automatically measures volts ac and volts dc with precise digital resolution
Displays resistance to 1000Ω
Easy and accurate OpenJaw™ current measurement
Continuity beeper
Compact design with neat probe storage
Rugged enough to withstand a 10-foot (3m) drop
Detachable SlimReach™ probe tips are customized for national electrical standards
Test leads accept Fluke accessory test clips
Can stay connected much longer than solenoid type tester
Auto off mode to conserve battery life
Optional holster attaches to a belt and neatly stows test leads
Specifications

Battery

Type

Two AA zinc chloride

Life

200 hour zinc chloride, 400 hour alkaline; low battery indicator

Test leads

Type

Heavy duty, flexible leads rated for 1000V use. Field replaceable leads terminate in male shrouded banana plugs

Probes

One red, one black. Detachable Slim-ReachT probe tips in one of two tip

Styles

TP1 flat blade (US style) or TP4 4 mm round (European style)

Continuity beeper

Threshold

On at <25W, off at >400W

Volts indicator LED

Threshold

Guaranteed on by 30V ac

Environmental

Operating temperature

-10°C to 50°C

Storage temperature

-30°C to 60°C

Temperature coefficient

0.1 x (specified accuracy)/degree C (<18°C or >28°C)

Relative humidity

0% to 95% (5°C to 30°C)
0% to 75% (30°C to 40°C)
0% to 45% (40°C to 50°C)

Operating altitude

2000 meters max
Dust and water resistant

Mechanical

Size

30.5 mm H x 51 mm W x 203 mm L (1.2" x 2.0" x 8.0") approximate

Weight

0.3 kg (10 oz) approximate

Current sensor opening

12.9 mm (.508")

Safety

Maximum operating voltage

600V ac/dc, Overvoltage Category III

Agency approvals

UL, CSA, and VDE

Size
No
Package Including
1 x Fluke T5-600 Electrical Tester
1 x User Manual
Warranty
Reviews
Product was as advertised and delivered on time.

Review by

drakodlv

It a Fluke need I say more? I find in life you get what you pay for. If you want a great meter this is it, look no more. (Posted on 10/16/11)

good++++++

Review by

moroman2000

This is an excellent meter. I us it at work on nearly a daily basis. (Posted on 10/16/11)

Thankyou for a fab service, very happy with the product

Review by

strauma01

This tester is great! It is made by Fluke, so it is the top quality. This tester is a great tester, and I would recommend it to anyone! (Posted on 10/16/11)

Honest Seller. Recomends

Review by

fasari

Talk about simple to use! This thing is stupid proof. I absolutely love it. You can always count on Fluke to produce a real quaility tester....and they make something for every person's needs. (Posted on 10/16/11)

Very good thankyou

Review by

kristy_g76

I have had one of these in my work toolbag (very rough usage) for many, many years now. This thing is a workhorse of a multimeter. I test everything from 6v DC to 460v 3-phase with no problem. It always gives a quick reading. This thing is even idiot-proof, as you don't need to select AC or DC current. I've used this feature then in a remote area, checking power (Am I getting 12v AC or DC??).

One con I can think of, is the spread of the amp current jaws. I have come up with wires that just won't fit. This won't happen in most applications, though. I have to say that this is one rock-solid meter, and it has made my job easier. It has attached leads, which I really have grown to like. You just clip them to the back of the meter, wrap the wires lengthwise around the meter & stuff it back into the toolbag.

I have even purchased another one for my tool chest at home, and seem to pull it out more often than my other meters, a Fluke 179 and a Simpson 260. It's just an easy meter to use, and I can't recommend it highly enough. (Posted on 10/16/11)

Good product cheers

Review by

antopc

Used this meter for years in industrial maintenance, no complaints. If you have the need to switch between AC & DC volts (say checking for AC ripple on a DC power supply output), then this meter is not for you. But for what it was designed for, I give it 5 stars. Accurate, good battery life, and most important, durable. (Posted on 10/16/11)

Awesome seller clippers work great!!

Review by

3111jan

I've used a number of testers and the Fluke is a good one. Unlike other multi testers you can't put this on the wrong setting and short out what you're working on. Easy to use and durable, this is my favorite electrical tester bar none. (Posted on 10/16/11)

Great item. Quick shipping a+ seller

Review by

dave.1542

I work as a Master Mechanic is a large manufacturing plant and needed something I could shove in my pocket and not get the leads all tangled. I especially liked the open-jaw ammeter.

The only drawbacks I found is the ohmmeter that shows an open (infinite resistance) after 1K. That has caused me to condemn good components. Also the plastic clip that holds one of the leads broke shortly after I bought my first one. I was able to fix it with a little silicone caulk. About 4 years later I lost a segment in the readout that made it hard to distinguish numbers. That's when I bought my second one. 4 years is good service for a low-cost tool made out of plastic that gets constant use and abuse. (Posted on 10/16/11)

Product was as advertised and delivered on time.

Review by

musso310

This tester is great. Enough to do many jobs in your houses.

The automatic selector of voltage is one advantage to non professional people.

The open clamp is great but if you want to measure more than 100 amps you'll have to buy another one ( see Fluke 322 )

You must be carefull with the teast leads, they are really sharp.I really recommend to buy with the T5, the starter kit. (Posted on 10/16/11)

Very Good Thanks

Review by

gitamani

This tester does everything I need and so far (6 mo), has stood up to whatever kind of abuse I've able to throw at it. As the previous reviewer mentioned, one of its best features is that you can lock one of the probes into the back of the meter and use the whole thing as a kind of big probe -- no problems with finding where to set the meter or where to look for the reading. Only improvement I could think of would be a light for the LCD panel.

Simple controls, solid construction, and looks like it was designed by someone who has actually tried to use a meter while on top of a step ladder. Well worth the extra $$. (Posted on 10/16/11)

Came as the descroption showed am happy

Review by

rayrule

I originally bought this model based on the recommendation in the July 2005 issue of Fine Homebuilding magazine, listed as a "dependable tester."

I've had difficulty with multimeters in the past, but never with a Fluke brand multimeter. I've droped Flukes down ladders, on concrete, and they still work like a champ. They work so well and are so trusted, it's the only brand of test equipment that the U.S. military does NOT require to have regular calibrations (though Fluke does recommend an annual calibration.)

Pros:
- The best feature (for me) is that the test lead can be plugged into the back of the unit and used like a big handle. This means that you can hold the Fluke in one hand with the hot lead sticking out the "jaw" end while your other hand holds the other lead in place. No more trying to find a place for the meter to sit.

- "Slim Reach" probe tips (4mm) are flattened to allow tips to be easily inserted into outlets. Still round, but have flat sides to them. Tips are replaceable.

- Leads stow in the back of the meter.

- Audible continuity beeper is plenty loud. I've been able to hear it over engine noise.

- The "automatic" and "auto-select" features are quick. Simply select volts, stick your probes, and you have a reading within a couple seconds.

- Dust and water "resistant." (I wouldn't go swimming with it or anything.)

- Has a "low battery" indicator.

Cons:
- Pricey, when compared to other brands. But, I feel the quality speaks for itself here.

- Made in China (for those of you that want to know.)

Specifications:
Precise digital resolution to 0.1 amp, 1 ohm, and 1 volt (AC/DC.)
Uses two AA zinc chloride or alkaline batteries
Current sensor opening "jaw" = 12.9 mm
"Can stay connected much longer than solenoid type tester"

I HIGHLY recommend this multimeter for the professional as well as the do-it-yourselfer. (Posted on 10/16/11)
Write Your Own Review
Tags
Shipping and Payments
Shipping and handing
Item location: International warehouse
Shanghai, Australia, United Kingdom, Germany, United States
Free Shipping to: Worldwide
Asia
China, Hong Kong SAR China, India, Indonesia, Japan, Macau SAR China, Malaysia, Philippines, Singapore, South Korea, Taiwan,Thailand, Vietnam
Europe
Austria, Belgium,Denmark, Finland, France, Germany, Greece, Hungary, Ireland, Italy,Netherlands, Norway, Poland, Portuga,Spain, Swaziland, Sweden, Switzerland, Ukraine,United Kingdom,Turkey
Americas
Canada, United States
Oceania
Australia,New Zealand
| | | | |
| --- | --- | --- | --- |
| Shipping and handing | to | Service | Delivery* |
| Free Shipping | Worldwide | Express Shipping | Estimated 3-9 days |
* Estimated delivery dates include our handling time, and will depend on shipping service selected and receipt of cleared payment. Delivery times may vary, especially during peak periods.
Handing time

Estimated Time

Will usually ship within 1 business day of

receiving cleared payment

.

Estimated time table
Return policy
| | | |
| --- | --- | --- |
| After receiving the item | Refund will be given as | Return shipping* |
| 30 days | Money Back | We pays return shipping |
* include our handling time, and will depend on shipping service selected and receipt of cleared payment. Delivery times may vary, especially during peak periods.
Payment details
| | |
| --- | --- |
| Payment metod | Preferred / Accepted |
| or Bank Transfer | Paypal preferred |