Description
If you find inaccurate product information, welcome to Correct Errors
Blue indicates proximity to AC Voltage source; Red indicates you're at the source; Operating temperature 0 deg C to 50 deg C; Ultra-Bright White LED; 100,000 hr bulb --- The new LVD2 Light, the newest version of the popular non-contact AC voltage detector and LED flashlight combined in one convenient, compact design. With exclusive dual-sensitivity the voltage detector glows blue when it's near AC voltage, and glows red when it's at the source. Detects voltages from 90 V AC to 600 V AC. Voltage detector glows blue 50 Hz - 60 Hz or 2.5 - 38 cm (1 - 5") away from source.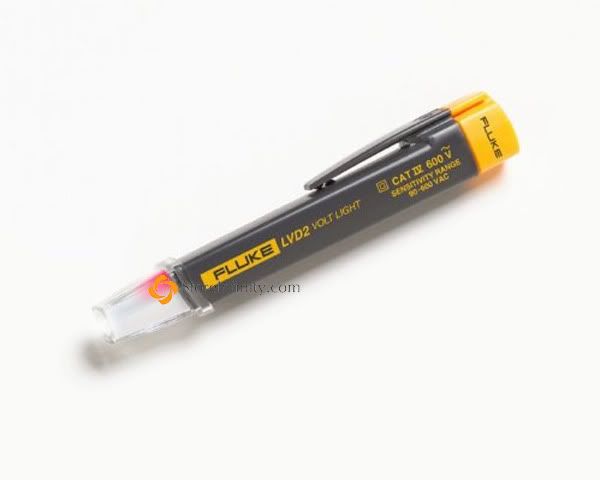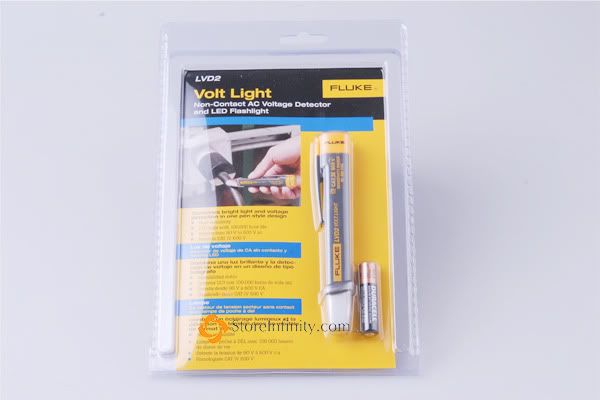 Ask a question about Fluke LVD2 Non-Contact Voltage Detector:
Additional Info
Additional Info
Brand
Fluke
Main Features
Dual Sensitivity
LED light with 100,000 hour life
Detects from 90 to 600 V AC
Rated to CAT IV 600 V
Dual Levels of Detection
Blue indicates proximity to AC Voltage source
Red indicates you're at the source
Operating temperature 0 deg C to 50 deg C
Ultra-Bright White LED
100,000 hr bulb
Size
No
Specifications

| | |
| --- | --- |
| Item name | Fluke LVD2 |
| Size: | Small |
| Color: | Gray |
| Item Package Quantity: | 1 |

Package Including
1 x Voltage Detector Pen
Reviews
fast delivery thank you

Review by

bugga-2007

This is a great, handy little tool! I rate it top notch, like everything else Fluke makes! (Posted on 11/28/11)

Great Product. Thank you

Review by

reesie98

THIS PRODUCT WAS AS ADVERTISED AND FULFILLED MY EXPECTATIONS. I RECOMMEND THIS PRODUCT AND WOULD BUY IT AGAIN IF NEEDED. AGAIN THIS PRODUCT IS RECOMMENDED BY THIS REVIEWER. (Posted on 11/28/11)

thank you

Review by

b6565651

It is a good tester, but I would like fluke had added the beep sound with the red or blue light.Also, I discovered that the swich becomes unoperate when the batterie dropes to 1 volt; this means that you will have to replace the batterie too sun in order for the tester to work with the light and at the same time read that inducted voltage produced by any wire we check. (Posted on 11/28/11)

very happy with this purchase, thank you so much

Review by

ronnidell

Handy tool for detection and testing of electrical supply and tracing along power cables. Built-in led very useful (Posted on 11/28/11)

quick delivery thank you :)

Review by

forestmaiden86

Fluke did it again. Works great. It's very small, light weight and the flashlight is very handy. I love this thing. (Posted on 11/28/11)

Very happy, fast post!

Review by

cherryk460

This device is great Im an electrician and I carry it all the time. it works just like it saids it will, and doubles as a flash light. this is just a great little sniffer and worh buy for you electricians out their looking for a new voltage sniffer this one is a must buy. (Posted on 11/28/11)

great company, quick easy transaction

Review by

vinnyginny67

This Fluke LVD2-Volt-Light makes an excellent bright pocket flasahlight while at the same time is a sensitive detector of live wires to 600VAC. The more recent Fluke VoltAlert, with its 1000VAC CatIV rating, is better suited to the professional electician. It has no flashlight capability, however. (Posted on 11/27/11)

nice product

Review by

brown-snout

What sets the Fluke LVD2 apart from other non-contact voltage sensors is the positive feedback and the distance sensor. I insisted on a tool that would let me know that it is functioning while in use in addition to the normal `check live circuit'. The flashlight provides feedback that the Fluke has enough battery power and functioning rather than guessing in an attic that the voltage sensor is still working after the initial check. The Fluke's Pink to Blue function to note that you are close with pink and then you are on the hot wire when blue is a GREAT feature! Along with another feedback option, in my experience the `close' sensor worked so well that it found the single hot wire in a bunch of 4 `black' wires. Very happy with the unit and I feel very safe using it. My other `beeping' units are now in the "only if I really need it" pile. One small note, it does not beep which would be a nice add but I give it 5 stars anyway. (Posted on 11/27/11)

Good product recieved with in a week

Review by

boekedt

I've had a chance to use this item a few times already and it works just as it states it should. Saved me a decent amount of time and headaches already. I'll see how long it lasts as time gos on, which will mean alot toward the question of was it worth it. As of now without a doubt I'd tell others to try it for a simple and cheaper side of the cost factor to check things out. I RV and that was the reason I actually bought it. Haven't used it for that yet. (Posted on 11/27/11)

A+ seller. Speedy delivery. Thanks

Review by

sharon620*

This is my second one of these little jewells the first one I had I had problems with just turning it on while in my shirt pocket and running the batteries down. This one has a better swith which is harder to turn on accidently and I love the size and light weight of this device and also I really like the dual light which changes color blue when close to energized circuits and red when on a live circuit. The led light is very nice and bright also. (Posted on 11/27/11)

The item was willing to work with me

Review by

pinkchicabee

This is a pretty cool little device. I love the LED flashlight. Its sensitivity is good and the led glows brighter the stronger a field it detects. At the source it seems to glow purple instead of red, but I think thats because I am mostly using this in 120 V applications. It lacks a buzzer which would be nice if its bright out or just to have that extra confirmation. I think these are a little pricy because of the 'Fluke' branding tax, but it does feel well built and is more sensitive then the GB non-contact voltage detector that I have. Of course the GB detector is about a third of the price. But if you are someone who doesn't lose tools often or mind the extra price then I certainly recommend this. (Posted on 11/27/11)

Really fast shipping and everything works perfectly.

Review by

boricuamanati

This is my second Fluke LVD2 Volt Light, having left my first one at a customer's house. I find it an indispensable little tool I use constantly throughout my work day. It is sensitive enough to sense voltage through glass and plastic covers and accurate enough to determine if voltage is lost across a fuse. When I'm not checking for voltages, it doubles as a very handy pocket LED flashlight. (Posted on 11/27/11)

Thanks!!!

Review by

hiltster1269

A dual mode tester that lights blue when it is in proximity to a live wire and glows red when at the source. The flashlight goes on when switching the tester on, no option here but not a bad thing. Comparing it to the smaller LVD1 it should be noted that they are two different testers. LVD1 is 40 to 300 volts, the LVD2 is 90 to 600 and this is better suited to commercial/industrial applications. For residential applications (120volts) the LVD1 is preferred as it is a little more sensitive in both modes and will actually pick up a potential thru the finish plate of an outlet or switch. (Posted on 11/27/11)
Write Your Own Review
Tags
Shipping and Payments
Shipping and handing
Item location: International warehouse
Shanghai, Australia, United Kingdom, Germany, United States
Free Shipping to: Worldwide
Asia
China, Hong Kong SAR China, India, Indonesia, Japan, Macau SAR China, Malaysia, Philippines, Singapore, South Korea, Taiwan,Thailand, Vietnam
Europe
Austria, Belgium,Denmark, Finland, France, Germany, Greece, Hungary, Ireland, Italy,Netherlands, Norway, Poland, Portuga,Spain, Swaziland, Sweden, Switzerland, Ukraine,United Kingdom,Turkey
Americas
Canada, United States
Oceania
Australia,New Zealand
| | | | |
| --- | --- | --- | --- |
| Shipping and handing | to | Service | Delivery* |
| Free Shipping | Worldwide | Express Shipping | Estimated 3-9 days |
* Estimated delivery dates include our handling time, and will depend on shipping service selected and receipt of cleared payment. Delivery times may vary, especially during peak periods.
Handing time

Estimated Time

Will usually ship within 1 business day of

receiving cleared payment

.

Estimated time table
Return policy
| | | |
| --- | --- | --- |
| After receiving the item | Refund will be given as | Return shipping* |
| 30 days | Money Back | We pays return shipping |
* include our handling time, and will depend on shipping service selected and receipt of cleared payment. Delivery times may vary, especially during peak periods.
Payment details
| | |
| --- | --- |
| Payment metod | Preferred / Accepted |
| or Bank Transfer | Paypal preferred |