Description
If you find inaccurate product information, welcome to Correct Errors
The Fluke 411D is professional-grade laser distance meter ?it is fast, easy to use, and it fit on your tool belt. This meter will save you effort and money by reducing measurement time and errors! Use Fluke laser distance meters to quickly and accurately determine the distance to your target, the area bounded by two distances or the volume within three measurements.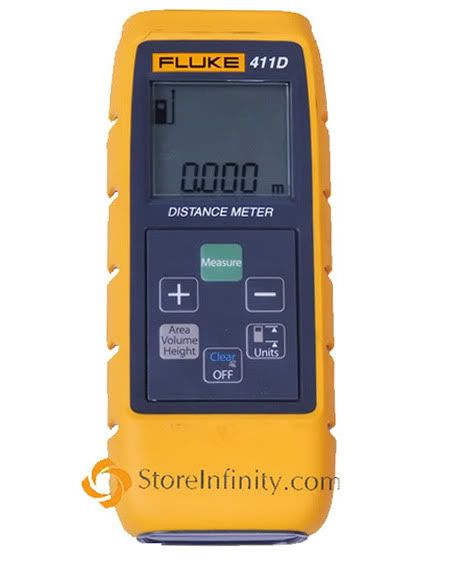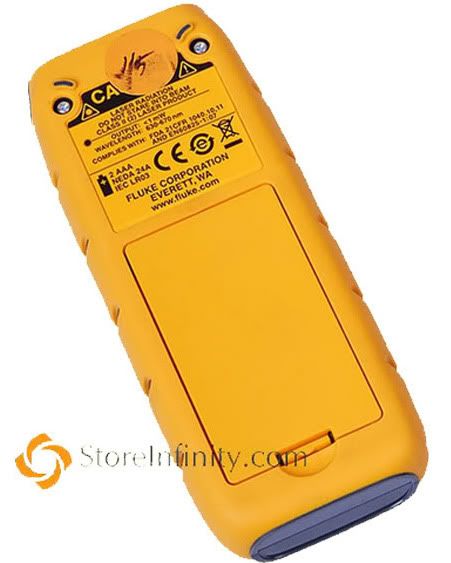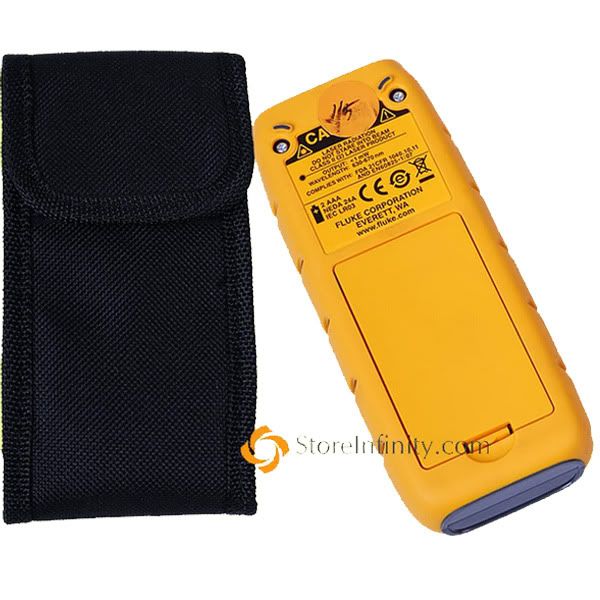 Ask a question about Fluke 411D Laser Distance Meter :
Additional Info
Additional Info
Size
No
Brand
Fluke
Main Features
Reduction of estimation errors, saving both time and money
The most advanced laser technology for distance measurement
Instant measurements of the distance between two objects with one-button operation
Easy targeting with bright laser
Measurement to 30 m (100 ft) with accuracy of 3 mm (0.12 in)
Quick calculations of distance formulas such as area (square feet/meters) and volume
Easy performance of distance addition and subtraction calculations
Pythagoras function for indirect measurement via two other measurements
Improved battery life from automatic shut-off feature
Display holds for easier viewing in hard-to-reach areas
Batteries: two AAA
Carrying pouch to secure on tool belt
Specifications

Technical specifications

Range (for extended distances, use a target plate)

| | |
| --- | --- |
| | 0.1 m to 30 m |
| | (0.33 ft to 100 ft) |

Measuring accuracy

| | |
| --- | --- |
| * | ± 3 mm (0.118 in) |

Laser class

Laser type

Automatic power off

Continuous measurement

Addition/subtraction

Battery life

LCD illumination

Data locations

Min/Max

Audible feedback

Pythagoras (Indirect measurement)

Ingress protection

Package Including
1 x 411D Laser Distance Meter
2 x AAA Batteries
1 x Users Manual On CD
1 x Quick Start Guide
1 x Carrying Case
Reviews
Great item fast shipping

Review by

damas618

This is an excellent product for the price.The LCD is very clear and easy to read,the buttons are easy to operate,and it accurately measures distances up to 30 meters(98.5 feet)with a +/-3mm accuracy.It includes a DVD that shows how to operate it,batteries and a carry case.Fluke also makes 2 other lasers that measure out to greater distances but also cost more.You can find them also on Storeinfinity. (Posted on 11/29/11)

Good communication and fast delivery. Exactly what I wanted A+++

Review by

hamishcavaye

Fluke makes 3 models of laser measurement systems. The 411 is the entry level and stops at 100 feet. That does not mean you can't make measurements longer than 100 feet - use the add feature and go to the middle of a hallway (like the 186 foot hallway in the storage building I rented) then point it both directions to the ends and use the add function on the front panel to sum the left and right from what you judge to be the middle.
I used the 411 and found it was VERY accurate (to 1/16") and could be set to measure from either the bottom or top of the tool. It's only real 2 major drawbacks are
100' distance limit (which you can get around)
non-backlit display (only their high end model has this - I think they should put it in all models as many measurements are made in dark areas, like my storage rental)
It sure beats rolling in 100' of tape and needing 2 people to make a simple distance measurment. painters, contractors, designers, architechts will find it usefull but may want the higher end models for commercial work. (Posted on 11/29/11)

great company, quick easy transaction

Review by

kai28kayl

I use this handy tool for all sorts of things where I used to need a helper. I find it perfect for setting up surround sound systems where speaker placement is critical. IF it works, it's a Fluke! (Posted on 11/29/11)

good job

Review by

wankan123

this thing is great and accurate. It is fast becoming one of my favorite tools in my tool toy box. Recently used it to set the height of 3 antenna's in a capture effect Glide slope system. The result was dead on the money when flight check reported the angle and other parameters of the system. (Posted on 11/29/11)

Good product, fast service

Review by

gooduni

It works! How, I'm not sure, but it does. Very easy to use, "point and shoot". With lots of options. Small, lightweight, and seems to be very accurate. Typical Fluke, well made. If you need non-contact distance measurement, this is it. (Posted on 11/29/11)

Item received thank you

Review by

logeth05

This is a good and reliable distance meter.
If you need it for everyday in-house use, this is right choice. However, its waterproof look is somewhat misguiding. Yes, it is weather proof, but this is not a protect-all rubber case you find in more expensive products like Leica Disto. In really hard environment, in constant contact with mud, sand and stone it becomes scratched and dirty. But it does not stop working ! The LCD display also proved to be very prone to scratches. But if you are not planning to use it in such hard conditions, why pay more ? Measurements are accurate enough, the unit has nice look and feel. (Posted on 11/29/11)

Exellent communication, A ++++ Top seller

Review by

dman1985

After using an electronic ultrasonic distance meter for the past 8 years, I became aware of it's shortcomings and inaccuracies. I used it for rough calculations, but never felt I could trust the readings I obtained...I'd always pull out the tried and true tape measures and left it at that.
After finding and using the Fluke 411D laser distance meter, my allegiance to the tape has just dropped several notches! I find this well made and compact Fluke unit to be very accurate and reliable. Along with its main distance function, It has a host of area (2 point data) and volume (3 point data) calculations that take the guess work and errors away from hand computations. This Fluke is rugged, has a nice carry case and can easily fit in my shirt pocket. (Posted on 11/29/11)
Write Your Own Review
Tags
Shipping and Payments
Shipping and handing
Item location: International warehouse
Shanghai, Australia, United Kingdom, Germany, United States
Free Shipping to: Worldwide
Asia
China, Hong Kong SAR China, India, Indonesia, Japan, Macau SAR China, Malaysia, Philippines, Singapore, South Korea, Taiwan,Thailand, Vietnam
Europe
Austria, Belgium,Denmark, Finland, France, Germany, Greece, Hungary, Ireland, Italy,Netherlands, Norway, Poland, Portuga,Spain, Swaziland, Sweden, Switzerland, Ukraine,United Kingdom,Turkey
Americas
Canada, United States
Oceania
Australia,New Zealand
| | | | |
| --- | --- | --- | --- |
| Shipping and handing | to | Service | Delivery* |
| Free Shipping | Worldwide | Express Shipping | Estimated 3-9 days |
* Estimated delivery dates include our handling time, and will depend on shipping service selected and receipt of cleared payment. Delivery times may vary, especially during peak periods.
Handing time

Estimated Time

Will usually ship within 1 business day of

receiving cleared payment

.

Estimated time table
Return policy
| | | |
| --- | --- | --- |
| After receiving the item | Refund will be given as | Return shipping* |
| 30 days | Money Back | We pays return shipping |
* include our handling time, and will depend on shipping service selected and receipt of cleared payment. Delivery times may vary, especially during peak periods.
Payment details
| | |
| --- | --- |
| Payment metod | Preferred / Accepted |
| or Bank Transfer | Paypal preferred |