Description
If you find inaccurate product information, welcome to Correct Errors
This is the meter we recommend for sensitive, accurate, wide spectrum measurements of RF/microwaves. The TES 593 meter measures both analog and digital fields, and is very good for digital microwaves up to 8 GHz. Measures RF/microwaves up to 8 GHz. It is important to use a test meter which can detect a wide range of frequencies. For example, many RF meters can only detect up to about 3 GHz or less, and the 5.8 GHz frequency of some cordless phones is simply not detected by many meters. However the TES 593 does detect all cordless phones, because it can measure up to 8 GHz.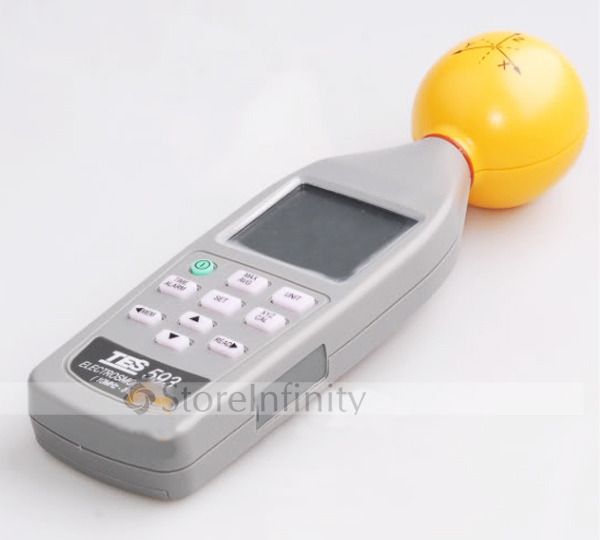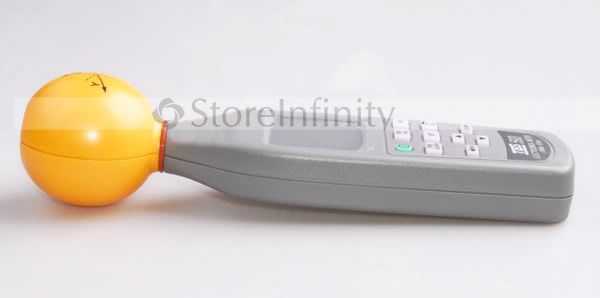 Ask a question about TES-593 ElectroSmog Meter 8Ghz EMF:
Additional Info
Additional Info
Size
No
Brand
TES
Main Features
10 MHz to 8.0 GHz frequency range
For isotropic measurements of electromagnetic fields
Non-directional (isotropic ) measurement with three-channel measurement probe
High dynamic range due to three-channel digital results processing
Configurable alarm threshold and memory function
Easy to use
High frequency (RF) electromagnetic wave field strength measurement
Mobil phone base station antenna radiation power density measurement
Wireless communication applications (CW , TDMA , GSM , DECT)
Wireless LAN (Wi-Fi) detection, installation
Spy camera, wireless bug finder
Cellular/Cordless phone radiation safety level
Microwave oven leakage detection
Personal living environment EMF safety
RF power measurement for transmitters
Specifications

Sensor type

Electric field (E)

Frequency range

10MHz to 8.0 GHz

Directional characteristic

Isotropic, 3-dimensional

Measurement range (CW signal>50MHz)

38mV/m to 11V/m

Absolute error(@1V/m and 50MHz)

± 1.0dB

Frequency response (taking into account typ. CAL factor)

± 1.0dB (50MHz to 1.9 GHz) , ±2.4dB(1.9GHz to 35GHz)

Isotropy deviation

Type. ±1.0dB f>50 MHz

Overload limit

4.2W/m2 (40 V/m)

Temperature response(0 to 50 )

± 1.5dB

Note

Unless otherwise stated, all specifications hold under the following assumptions:

Sinusoidal signals; device in far-field of a source; probe head pointing toward source; ambient temperature +23 ±3 ;relative air humidity 25% to 75%.

Measurement method

Digital , triaxial measurement

Directional characteristic

Isotropic, triaxial

Measurement range selection

One continuous range

Display resolution

0.1mV/m, 0.1 μA/m, 0.1 μW/m², 0.001 μW/cm²

Setting time

Typically 1s ( 0 to 90% of meas. value)

Display refresh rate

Typically 400mS

Display type

LCD 4 digits

Audible alarm

Buzzer

Measurement units

mV/m , V/m , μA/m , mA/m , μW/m² , mW/m² , μW/cm²

Measurement display value

Instantaneous measured value, maximum value or average value since power-on.

Measurement average time (in per-set steps)

4s to 15 minutes

Measurement alarm function

Adjustable threshold with ON/OFF

Package Including
1 x Electrosmog RF Microwave Meter up to 8Ghz EMF
1 x User Manual
Reviews
Tags
Shipping and Payments
Shipping and handing
Item location: International warehouse
Shanghai, Australia, United Kingdom, Germany, United States
Free Shipping to: Worldwide
Asia
China, Hong Kong SAR China, India, Indonesia, Japan, Macau SAR China, Malaysia, Philippines, Singapore, South Korea, Taiwan,Thailand, Vietnam
Europe
Austria, Belgium,Denmark, Finland, France, Germany, Greece, Hungary, Ireland, Italy,Netherlands, Norway, Poland, Portuga,Spain, Swaziland, Sweden, Switzerland, Ukraine,United Kingdom,Turkey
Americas
Canada, United States
Oceania
Australia,New Zealand
| | | | |
| --- | --- | --- | --- |
| Shipping and handing | to | Service | Delivery* |
| Free Shipping | Worldwide | Express Shipping | Estimated 3-9 days |
* Estimated delivery dates include our handling time, and will depend on shipping service selected and receipt of cleared payment. Delivery times may vary, especially during peak periods.
Handing time

Estimated Time

Will usually ship within 1 business day of

receiving cleared payment

.

Estimated time table
Return policy
| | | |
| --- | --- | --- |
| After receiving the item | Refund will be given as | Return shipping* |
| 30 days | Money Back | We pays return shipping |
* include our handling time, and will depend on shipping service selected and receipt of cleared payment. Delivery times may vary, especially during peak periods.
Payment details
| | |
| --- | --- |
| Payment metod | Preferred / Accepted |
| or Bank Transfer | Paypal preferred |