Description
If you find inaccurate product information, welcome to Correct Errors
Hantek DSO-2090 PC USB Digital Oscilloscope 100MS/S 2ch, designed for general signal testing it is ideal for the student, hobbyist or engineer, the DSO-2090 has a small size, low power consumption and high reliability. Supplied with feature-rich Oscilloscope software package, programming examples and LabVIEW drivers.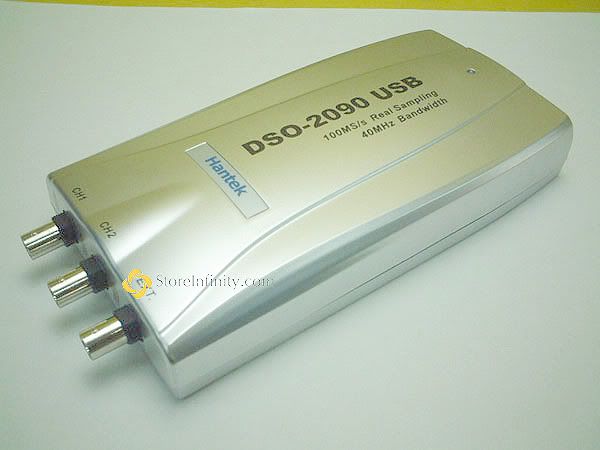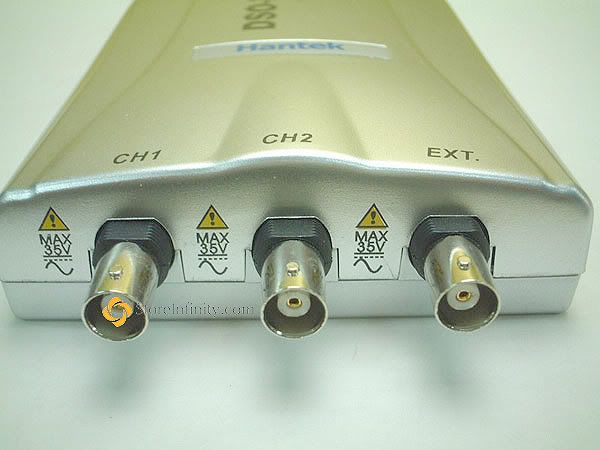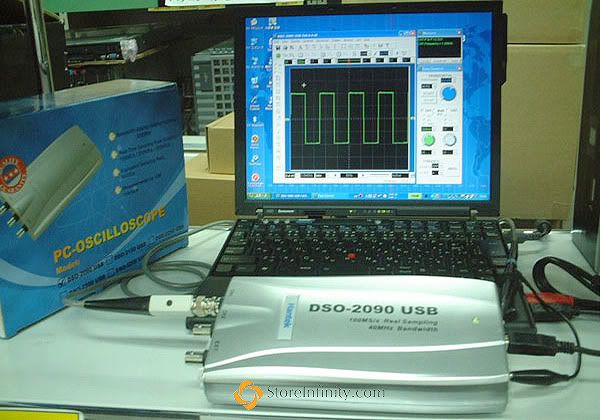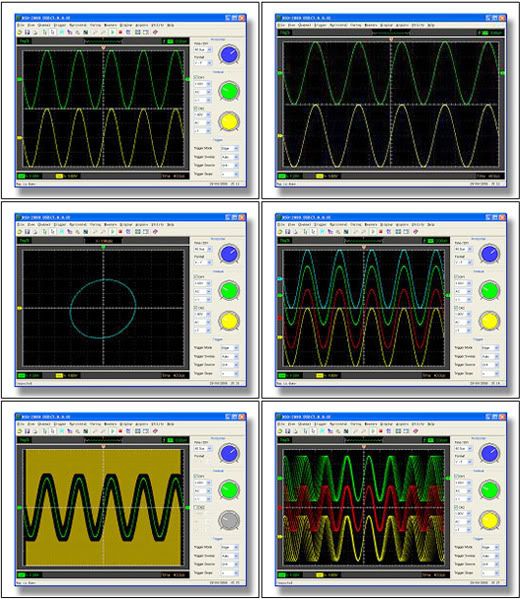 Ask a question about Hantek DSO-2090 PC Digital Oscilloscope:
Additional Info
Additional Info
Brand
Hantek
Main Features
USB2.0 interface, no external power source required, easy to use
High performance, 100MS/s real-time sampling, 40MHz Bandwidth
23 measurement functions, PASS/FAIL Check, be suitable for technical application
Waveform average, persistence, intensity, invert, addition, subtraction, multiplication, division, X-Y plot
FFT
One computer can connect many DSO, extend channel easily
Labview\VB\VC\Delphi\C++Builder Second Design instance
Size
No
Specifications

Channel

2 Channels

Impedance

1MΩ 25pF

Coupling

AC/DC/GND

Vertical resolution

8Bit

Gain range

10mV-5V, 9Steps

DC accuracy

±3%

Timebase range

4ns-1h, 38 Steps

Vertical adjustable

Yes

Input protection

Diode clamping

X-Y

Yes

Autoset

Yes (30Hz to 40MHz)

EXT. input

Yes

Trigger Mode

Auto, Normal and Single

Trigger Slope

+/-

Trigger level adjustable

Yes

Trigger Type

Rising edge, falling edge

Trigger Source

CH1, CH2, EXT

Pre/Post trigger

0-100%

Buffer size

10K-32KB/Channel

Shot bandwidth

DC to 40MHz

Max. Sample rate

100MS/s

Sampling selection

Yes

Waveform Display

port/line, waveform average, persistence, intensity

Network

Open/Close

Vertical mode

CH1, CH2, Dual, ADD

Cursor measurement

Yes

Spectrum analyzer

Channel

2 Channels

Math

FFT, addition, subtraction, multiplication, division.

Bandwidth

40MHz

Cursor

Frequency, Voltage

Data Samples

10K-32K/Channel

Accessories

S/W CD, probes, manual, USB cord

Package Including
1 x DSO-2090 PC USB Digital Oscilloscope 100MS/S 2ch
1 x Original Package
Warranty
Reviews
Fast shipping, described 100% Thank you.

Review by

jackjmc91

I bought the 100megasamples/s version. Works ok, easy to setup and use. Of course, the documentation is minimal, but if you're familiar with other 'scopes you can figure this one out.
However, don't believe the blurb that says the bandwaidth is 40MHz at 100Ms/s. It ain't so. I cannot get a 32MHz signal to show up. I believe the real b/w is close to 20-25MHz. (Posted on 2/23/12)

Thanks for the great service A++++++

Review by

roselea01

Took me a couple of hours to get familiar with the software, calibrate and check out the DSO to convince myself it gave accurate readings. In short...it works great. Not as nice as the $10,000 DSO I used to use at work (I am a Electronics Engineer), but it is absolutely amazing for less than $200.
This DSO can do anything I need to do in my home lab. (I wouldn't recommend it for designing missile guidance systems.) It is limited to 35 VAC RMS input but that is plenty for working with digital systems. I am not sure why some of the reviewers were so negative. Some of their comments are incorrect. It helps if you read the help file located in the software application (the manual that comes with the product is a joke) and have previous experience using scopes. (Posted on 2/23/12)

great seller!!!!!!

Review by

devilboycody

I am a retired electronics engineer. I worked for over 36 years at Lawrence Berkeley National Laboratory. I was in the engineering division and matrixed to particle accelerators. My specialties were high voltage and instrumentation. I know a great deal about analog and digital oscilloscopes. I began my career at the Bevatron accelerator as an electronics technician in 1964. In that capacity I repaired and calibrated many of oldest scopes that Tektronix sold at the time. I even repaired the very first Tek scope that was sold to LBNL. It was called the Rad Lab back then.
When I left the lab in 2000 I was a senior electronics engineer responsible for instrumentation on the Advanced Light Source. I had a very good budget during the machine design and construction phase and purchased the highest performance scopes (and other test equipment) that Tektronix and others sold at that time. As the Tektronix product line improved over time I bought the best digitizing and sampling scopes they made. I'm not bragging. I'm just laying the ground work for what I'm about to write.
This little scope is a real winner. Yes, it has it limitations, but I sure got a real bang for my buck when I bought it. The probes amaze me because they are identical in appearance and function to Tektronix probes of 15 years ago or so. The software is is intuitive and easy to use. For example, when I want to see a frequency domain measurement of a signal from say a function generator (for example) I just use the FFT function to see the harmonics of a square or triangle wave. Simple opamp sine wave generators produce quite a bit of distortion. That is easy to see and quantify FFT display. The FFT display is in reality a digital spectrum analyzer. FFT data may be saved and later analyzed using Excel or any other similar software.
So, the scope is easy to set up and use. As yet, I haven't found a single thing to fault it for. I certainly will put it through some tests and will report anything that displeases me. My mantra when I was an engineer was K.I.S.S. = KEEP IT SIMPLE STUPID! This neat little scope qualifies in every regard. In my book this little beauty is a winner and deserves my highest praise!
For those who are not familiar with scopes and their uses I recommend requesting a PDF file provided by Tektronix. You'll have to fill out a simple request form, and then you'll have the document, "The XYZs of Oscilloscopes". Just go to [...]
You'll find some interesting material there. Once you've got the hang of it then get next to your work and get the job done. The Tektronix primers should help users avoid unrealistic expectations.
Okay, get busy! Work safely! Explore the scope's capabilities. Make MONEY! You get the picture. Enjoy your new toy. (Posted on 2/23/12)

Great product, super fast delivery, great seller

Review by

nknich01

I just received the DSO 2090 USB oscilloscope and am wondering if anyone has any info on a linux driver for it. I searched quite extensively and it seems that there is no such thing. I think I will try to write one, and if anyone has any hints I look forward to hearing them. (Posted on 10/20/11)

Very concerned and reliable seller - definitely to recommend!

Review by

brendangoku

It's all what I was expecting to be. I would only complaing about the lack of information in the instructions manual. But it's ok. (Posted on 10/20/11)

Great product Very fast service

Review by

kingdongthe

I have only used this a couple of times so far. It very easy to install and set up. This device cover all the common uses of a scope and then some. If it proves to be durable this will be a gem. (Posted on 10/20/11)
Write Your Own Review
Tags
Shipping and Payments
Shipping and handing
Item location: International warehouse
Shanghai, Australia, United Kingdom, Germany, United States
Free Shipping to: Worldwide
Asia
China, Hong Kong SAR China, India, Indonesia, Japan, Macau SAR China, Malaysia, Philippines, Singapore, South Korea, Taiwan,Thailand, Vietnam
Europe
Austria, Belgium,Denmark, Finland, France, Germany, Greece, Hungary, Ireland, Italy,Netherlands, Norway, Poland, Portuga,Spain, Swaziland, Sweden, Switzerland, Ukraine,United Kingdom,Turkey
Americas
Canada, United States
Oceania
Australia,New Zealand
| | | | |
| --- | --- | --- | --- |
| Shipping and handing | to | Service | Delivery* |
| Free Shipping | Worldwide | Express Shipping | Estimated 3-9 days |
* Estimated delivery dates include our handling time, and will depend on shipping service selected and receipt of cleared payment. Delivery times may vary, especially during peak periods.
Handing time

Estimated Time

Will usually ship within 1 business day of

receiving cleared payment

.

Estimated time table
Return policy
| | | |
| --- | --- | --- |
| After receiving the item | Refund will be given as | Return shipping* |
| 30 days | Money Back | We pays return shipping |
* include our handling time, and will depend on shipping service selected and receipt of cleared payment. Delivery times may vary, especially during peak periods.
Payment details
| | |
| --- | --- |
| Payment metod | Preferred / Accepted |
| or Bank Transfer | Paypal preferred |