Description
If you find inaccurate product information, welcome to Correct Errors
The Fluke T5 Electrical Testers let you check voltage, continuity and current with one compact tool. With the T5, all you have to do is select volts, ohms, or current and the tester does the rest. OpenJaw? current lets you check current up to 100A - without breaking the circuit. Its tough test leads stow neatly in the back of the tester, making it easy to tote the T5 in your tool pouch. Detachable Slimr.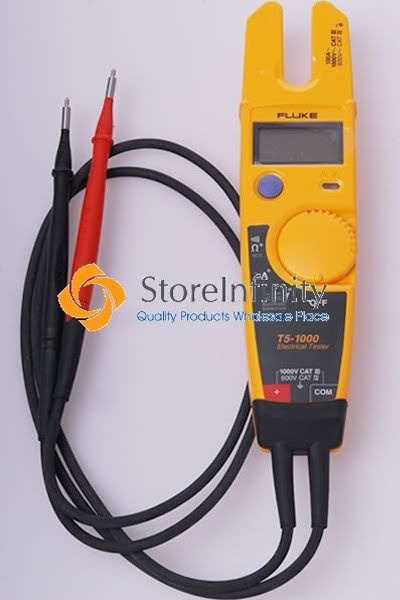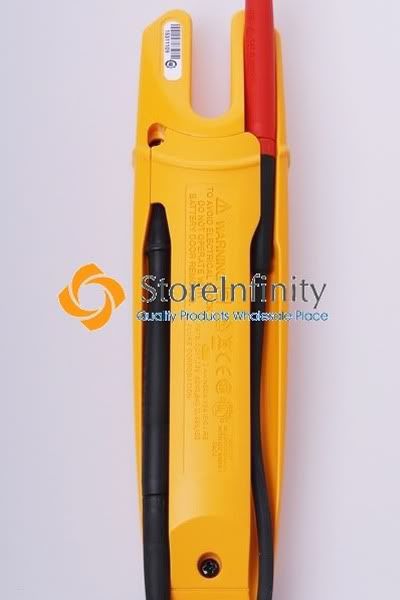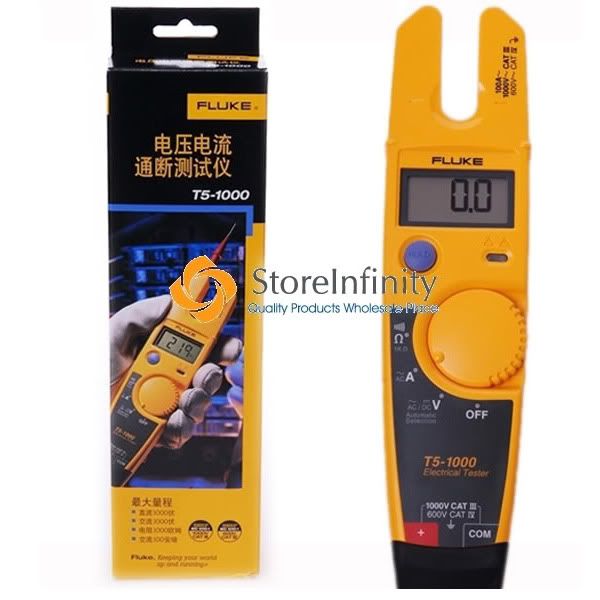 Ask a question about Fluke T5-1000 Electrical Tester:
Additional Info
Additional Info
Brand
Fluke
Main Features
Automatically measures volts ac and volts dc with precise digital resolution
Displays resistance to 1000&Omega
Easy and accurate OpenJaw™ current measurement
Continuity beeper
Compact design with neat probe storage
Rugged enough to withstand a 10-foot (3m) drop
Detachable SlimReach™ probe tips are customized for national electrical standards
Test leads accept Fluke accessory test clips
Available in 600V and 1000V models
Can stay connected much longer than solenoid type tester
Auto off mode to conserve battery life
Optional holster attaches to a belt and neatly stows test leads
Specifications

Specifications

Continuity beeper

| | |
| --- | --- |
| Threshold: | On at <25 Ω, off at >400 Ω |

Volts indicator LED

| | |
| --- | --- |
| Threshold: | Guaranteed on by 30V ac |

Environmental Specifications

Operating Temperature

-10 °C to 50 °C

Storage Temperature


-30 °C to 60 °C

Humidity (Without Condensation)


0% to 75% (30 °C to 40 °C)

0% to 45% (40 °C to 50 °C)

0% to 95% (5 °C to 30 °C)

Dust/water resistance

Yes

Operating Altitude

2000 meters max

Temperature Coefficient

0.1 x (specified accuracy)/degree C (<18 °C or >28 °C)

Safety Specifications

Overvoltage category

T5-600:

600V ac/dc, CAT III

T5-1000:

1000V ac/dc, CAT III
600V ac/dc, CAT IV

Agency Approvals

UL, CSA, and VDE

Maximum voltage

between any terminal and earth ground

Mechanical & General Specifications

Size

30.5 x 51 x 203 mm

Battery Life

200 hour zinc chloride, 400 hour alkaline

Battery type

Two AA zinc chloride

Low battery indicator

yes

Current sensor opening

12.9 mm

Calibration cycle

1 year

Test leads

Type:

Heavy duty, flexible leads rated for 1000V use.

Field replaceable leads terminate

in male shrouded banana plugs

Probes:

One red, one black. of two tip

Detachable Slim-ReachT probe tips in one

Styles:

TP4 round Reach Test Probes

Size
No
Package Including
1 x Fluke T5-1000 Electrical Tester
1 x User Manual
Warranty
Reviews
fast postage, works well. Very pleased.

Review by

alanyiohp

Plenty has been written about the excellent quality of this multimeter, so I won't duplicate it. Suffice it to say I am quite happy with my purchase. (Posted on 1/11/12)

Perfect transaction! Thankyou :) A+++

Review by

garinkie

This is an awesome meter, super high quality. (Posted on 1/11/12)

Thanks for the item as described AAA+

Review by

tigers-17

It was particularly reassuring when I contacted Fluke for some technical specs that I couldn't find in the manual.I breezed through their automated answering system and within two minutes was talking to a live, China worker who completely understood my question and was remarkably knowledgeable about the product. (Posted on 1/11/12)

great service

Review by

tycron86

This is a great product! I only wish it were readily available in the Philippines. (Posted on 1/11/12)

good product, got stuck in Christmas post I think :)

Review by

xxcutekatxx1

Its everything I wanted and needed. Love this little thing. (Posted on 1/3/12)

thank u

Review by

georer

So quick delivery, great seller (Posted on 1/3/12)

good seller

Review by

theuwb81

Got it today, thank you (Posted on 1/3/12)

Thank you for a good item and fast delivery, great communication cheers

Review by

albertrenrut

This product is great! It is a great idea to have this whether you are a professional, or just a round-the-house type worker. I highly recommend it! (Posted on 11/14/11)

Top Ware, fast delivery, Thank you!

Review by

eurobay7

A fairly priced, high quality, no frills meter that lets you get in and out and get the job done. Fluke is known for qualty and this product is no exception. All in all, a great product. (Posted on 11/14/11)

THANK YOU V MUCH...

Review by

mgelec05martin

This is a great product and performs as you would expect from a name like Fluke. I'm an electrician with the US Navy Seabees and I am using this meter for camp (facilities) maintenance and contruction in Afghanistan. This is the meter I carry with me all the time. It's not a fault of the meter as much as the nature of the work I'm doing right now. I really like the compact size and lightweight design which allows me to carry it with me all the time. (Posted on 11/14/11)

as described excellent+++++++++++++++++

Review by

stevelibba

Good, the electric tester's working and brand new, the price is not a big deal but it's ok. (Posted on 10/21/11)

product recieved in good order

Review by

jdub8120

I really like the meter...simple three-position switch (combining AC and DC); the tips on the leads are replaceable, but the leads are permanently attached (why?). The only other complaint is that the notch for the ammeter is too small for even medium-gauge wire. (Posted on 10/21/11)

quick delivery, quality product

Review by

liptech74

Now with the T5-1000 and it's cousin the T5-600 from Fluke the world is an entirely new place. The only difference in the models is the maximum voltage (1000V on the -1000 model and 600V on the -600 model) - I bought the 1000 primarily because I was doing high power testing at 50 hz with a 5 megawat motor/generator and had to adjust the field coil in the generator with a rheostat which affected the output voltage - often it was much more than 600 volts. If you are just working around a house the T5-600 model will work fine. If you work on high power energized circuits, the 1000 is the way to go. (Posted on 10/21/11)

Item as described, smooth transaction, thank you

Review by

ussdefiiant2

I recently purchased this tester and have heard great things from every electrician that owns one. Price is cheaper then most testers and are so convienent to just take with you everywhere you go! I own a fluke 87-5 as well but would much rather take the t5 with me. I highly recommend this tester for apprentice electricians, trained professonals and even for regular people that like to trouble shoot! The handle that holds the probes looks goofy but comes it super handy! (Posted on 10/14/11)

Great ebayer, recommended A+++

Review by

ashyalien

Any one who is an electrician knows the value of a Fluke meter, this is the best and easiest to use, very practicle gift for the wireman or wirewoman. (Posted on 10/14/11)

quick delivery thanks

Review by

Damocheers

Fantastic, highly recommended!!
Second time I tried this after their ebay site which costs slightly higher for the reason of fees I reckon.
Same stuff but a bit cheaper, cheers repeat customers like I am. (Posted on 10/5/11)
Write Your Own Review
Tags
Shipping and Payments
Shipping and handing
Item location: International warehouse
Shanghai, Australia, United Kingdom, Germany, United States
Free Shipping to: Worldwide
Asia
China, Hong Kong SAR China, India, Indonesia, Japan, Macau SAR China, Malaysia, Philippines, Singapore, South Korea, Taiwan,Thailand, Vietnam
Europe
Austria, Belgium,Denmark, Finland, France, Germany, Greece, Hungary, Ireland, Italy,Netherlands, Norway, Poland, Portuga,Spain, Swaziland, Sweden, Switzerland, Ukraine,United Kingdom,Turkey
Americas
Canada, United States
Oceania
Australia,New Zealand
| | | | |
| --- | --- | --- | --- |
| Shipping and handing | to | Service | Delivery* |
| Free Shipping | Worldwide | Express Shipping | Estimated 3-9 days |
* Estimated delivery dates include our handling time, and will depend on shipping service selected and receipt of cleared payment. Delivery times may vary, especially during peak periods.
Handing time

Estimated Time

Will usually ship within 1 business day of

receiving cleared payment

.

Estimated time table
Return policy
| | | |
| --- | --- | --- |
| After receiving the item | Refund will be given as | Return shipping* |
| 30 days | Money Back | We pays return shipping |
* include our handling time, and will depend on shipping service selected and receipt of cleared payment. Delivery times may vary, especially during peak periods.
Payment details
| | |
| --- | --- |
| Payment metod | Preferred / Accepted |
| or Bank Transfer | Paypal preferred |
You may also be interested in the following product(s)